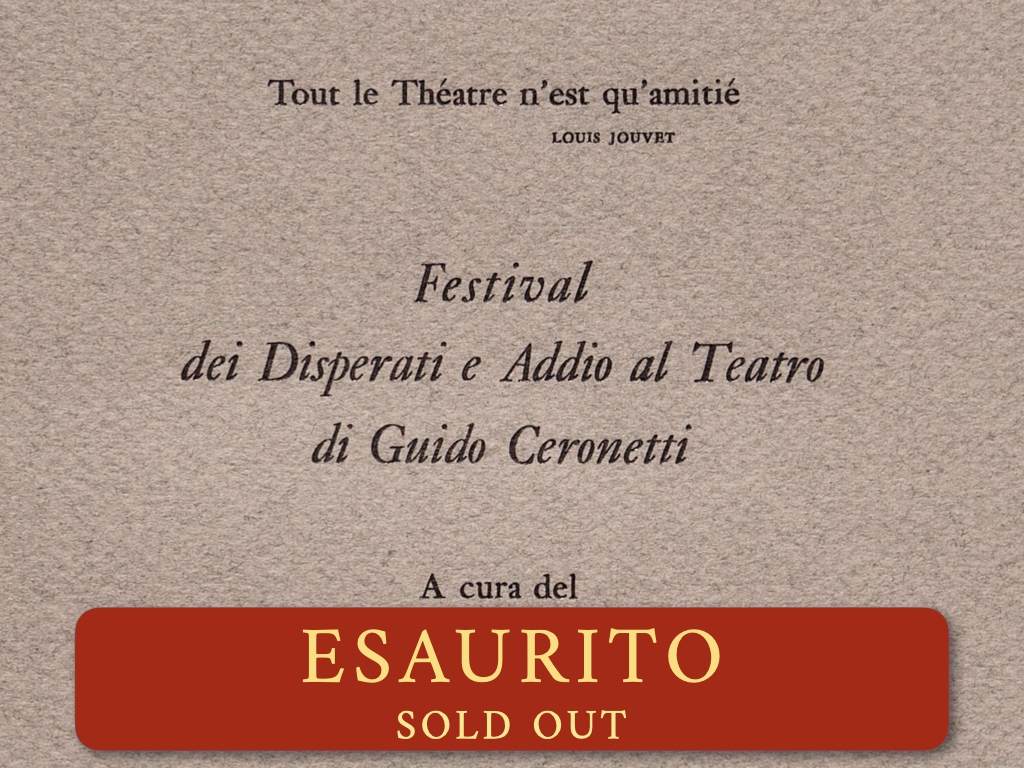  
I rimpianti della bella Elmiera - F. Villon
SOLD OUT

Limited edition of 81 copies typeset by hand in movable types, letter by letter, and letterpress-printed.
Italian translation by Guido Ceronetti, which was put up on stage on the occasion of Ceroneti's last last show in theatre (Teatro Gobetti di Torino, 20-25 june 2011). 
Complimentary gift wrapping and personalized message for the receiver available at checkout*
(*) no additional charge will be applied
Shipping costs calculated at checkout
Italian translation from François Villon, Testament, vv. 456-532.
This is a copy of 81 printed on high quality cotton paper.
Booklet in 8vo format (cm 12x26) of 12 pages typeset by hand in Nicholas Kis's baroque italic types derived from the original 17th century punches. 
It is housed in a hand-made slipcase, custom made to an exact size, whose exteriors are covered with Ingres paper.
***
The number of movable types handled for the typesetting of this book, makes it an exceptional endeavor in contemporary fine printing.
Printed on very fine paper and sewn by hand, this collector's edition is a sophisticated gift meant to last over time and designed to give the best reading experience possible.
It is handmade in the most ancient typographic studio in the world still in activity, where handmade bookmaking and continue aesthetic research combine to give each book a unique design, never repeated in standard book series.
Neither monotype nor linotype are used. These typesetting systems from a keyboard are often passed off as manual typography. The Tallone Press also does not print from plastic plates derived from digital compositions.