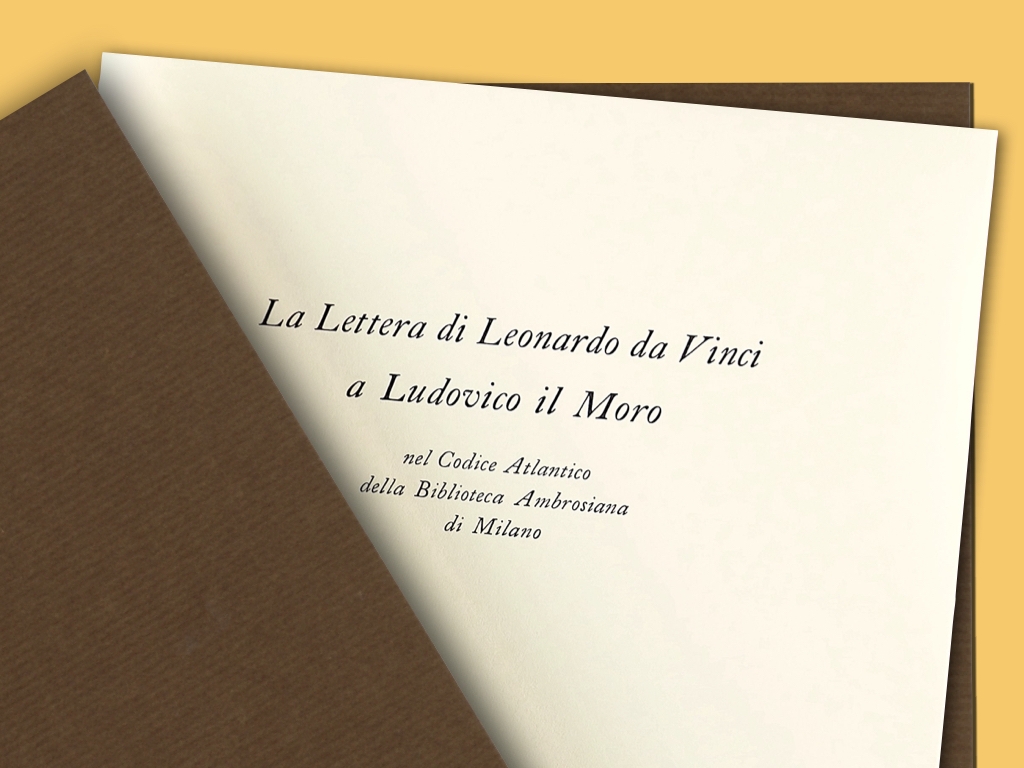  
Leonardo da Vinci's resume
Limited edition of 62 copies typeset by hand, numbered and letterpress printed. The first modern curriculum vitae, written by Leonardo da Vinci to the Duke in Milan, proves to be a document of rare effectiveness.
Complimentary gift wrapping and personalized message for the receiver available at checkout*
(*) no additional charge will be applied
Shipping costs calculated at checkout
Limited print run of 85 numbered copies typeset by hand and letterpress-printed on pure cotton cream-colored Umbria paper, made in Fabriano (of which 20 copies not for sale, marked with alphabet letters, were printed for the Ambrosiana Library). 
***
The number of movable types handled for the typesetting of this book, makes it an exceptional endeavor in contemporary fine printing.
Printed on very fine paper and sewn by hand, this collector's edition is a sophisticated gift meant to last over time and designed to give the best reading experience possible.
It is handmade in the most ancient typographic studio in the world still in activity, where handmade bookmaking and continue aesthetic research combine to give each book a unique design, never repeated in standard book series.
Neither monotype nor linotype are used. These typesetting systems from a keyboard are often passed off as manual typography. The Tallone Press also does not print from plastic plates derived from digital compositions.
***
In this letter (Foglio 1082 r, Codice Atlantico, Ambrosiana Library), Leonardo lists its military, architectural and artistic competences, thus masterfully titillating the Duke's aspirations. He got the job, ça va sans dire.
In particular, the first 7 point are devoted to military skills, as Leonardo intends to leverage on Ludovico's geo-political ambitions, by showing his ability to build war machines and thwart any adversary fortification.
A volume in 4to format (22x35 cm) of 52 pages typeset by hand in 16 point original Caslon types, cast in the copper matrices struck by the original 18th-century punches handcut by William Caslon in London in 1720.
***
Edited by Mons. Marco Navoni.
Preface by Mons. Marco Ballarini, Prefetto della Biblioteca Ambrosiana. Introduction by Mons. Marco Navoni, Dottore della Biblioteca Ambrosiana.
***
This is an ordinary copy.
Moreover, for a total print run of 188 copies, the book comes in the following editions:
- 71 copies printed on pure cotton ivory Magnani wove paper, made in Tuscany(details and prince on request);
- 24 copies printed on pure cotton off-white Magnani laid paper, made in Tuscany, which include original etching by Giuseppe Penone, signed and numbered (details and prince on request);
- 6 copies printed on pure cotton heavy Magnani paper, made in Tuscany, details and prince on request);
- 2 copies printed on pure cotton Rives paper, made in France, where Leonardo spent his last two years.
***
The volume is housed in a hand-made slipcase and box, custom made to an exact size, whose exteriors are covered with Ingres paper. The book title is letterpress-printed on the slipcase's spine.
Data sheet
Size (cm)

22x35

Typefaces

Entirely typeset by hand in Caslon type, cut by William Caslon on steel punches in the first half of the 18th century, and cast in the original matrices of the time.

Paper

Pure-cotton Umbria paper, made in Fabriano

Number of pages

52

Total print run

85

Weight (kg)

1,5