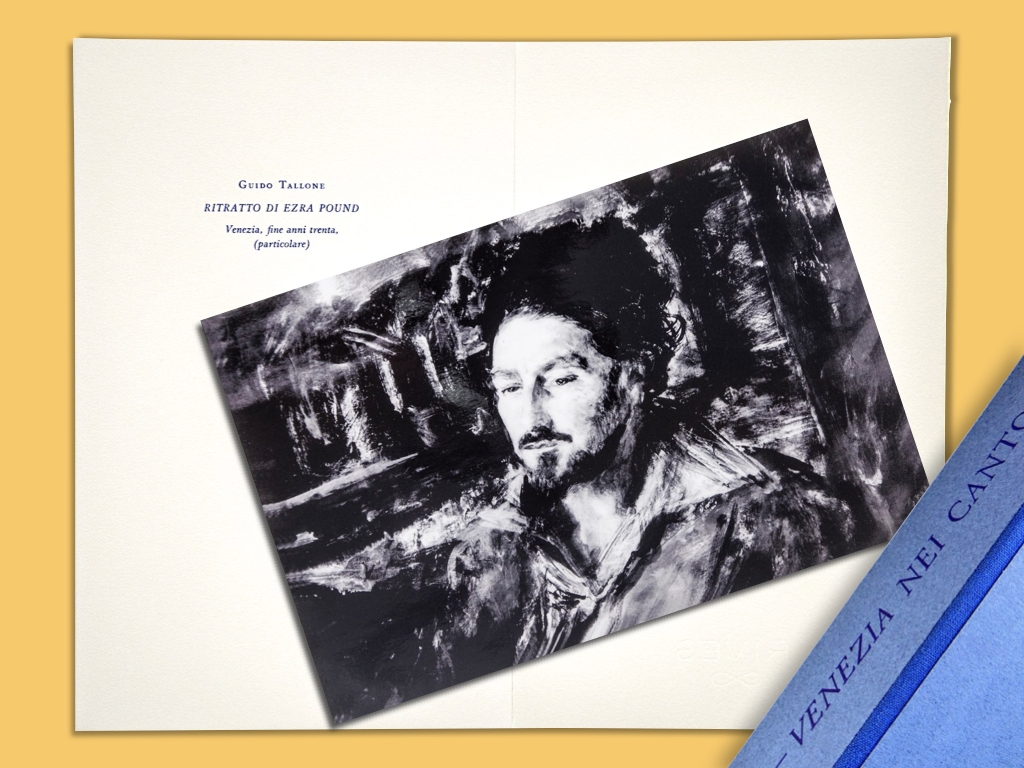  
Venice in the Cantos - Ezra Pound
A collection of poems dedicated to Venice, Pound's favorite town, where he lived for half a century and where his remains rest.
Limited edition of 270 copies typeset by hand in movable types, letter by letter, and letterpress-printed.
English-Italian edition.
Complimentary gift wrapping and personalized message for the receiver available at checkout*
(*) no additional charge will be applied
Shipping costs calculated at checkout
This is one of 270 numbered copies letterpress printed on Magnani cotton paper made in Tuscany.
Bilingual English-Italian edition edited by Mary de Rachewiltz, Ezra Pound's daughter. 
Volume in 8vo format (cm 19x31) of 160 pages typeset by hand in the exclusive Tallone type, which was designed by Alberto Tallone, hand-cut on steel punches by Charles Malin in Paris, and cast by Radiguer Foundry.
A separate folder contains the photographic reproduction of the portrait of Ezra Pound painted from life by Guido Tallone (Alberto's brother) in the Venecian house of the Poet in the 1930s. 
The volume is housed in a hand-made slipcase and box, custom made to an exact size, whose exteriors are covered with Ingres paper. The book title is letterpress-printed on the slipcase's spine.
The first poem in the collection is "Night Litany", which begins with the following verses:
O Dieu, purifiez nos cœurs!
purifiez nos cœurs!
Yea, the lines hast thou laid unto me
in pleasant places,
And the beauty of this thy Venice
hast thou shown unto me
Until is its loveliness become unto me
a thing of tears.
O God, what great kindness
have we done in times past
and forgotten it,
That thou givest this wonder unto us,
O God of waters?
[…]
***
A total of 388 numbered copies were printed, of which:
- 270 printed on off-white Magnani paper, made in Tuscany;
- 90 printed on white Magnani paper;
- 16 printed on Gampi paper, handmade in Japan;
- 12 printed on handmade Chinese paper (sold out).
***
The number of movable types handled for the typesetting of this book, makes it an exceptional endeavor in contemporary fine printing.
Printed on very fine paper and sewn by hand, this collector's edition is a sophisticated gift meant to last over time and designed to give the best reading experience possible.
It is handmade in the most ancient typographic studio in the world still in activity, where handmade bookmaking and continue aesthetic research combine to give each book a unique design, never repeated in standard book series.
Neither monotype nor linotype are used. These typesetting systems from a keyboard are often passed off as manual typography. The Tallone Press also does not print from plastic plates derived from digital compositions.