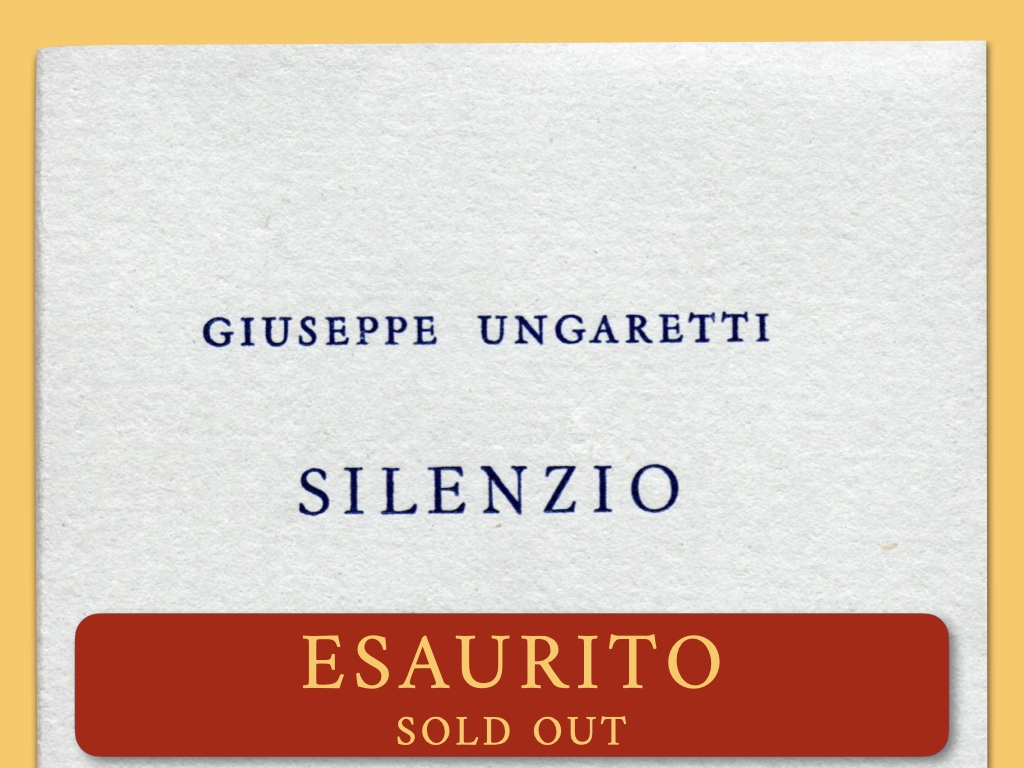  
SILENZIO - Giuseppe Ungaretti
SOLD OUT
Limited edition of 200 copies typeset by hand in movable types, letter by letter, and letterpress-printed.
This edition includes the fable "Silence" by Edgar Allan Poe, and both its Italian and French translation, respectively written by Giuseppe Ungaretti and Charles Baudelaire.
Complimentary gift wrapping and personalized message for the receiver available at checkout*
(*) no additional charge will be applied
Shipping costs calculated at checkout
The volume, in Italian, English and French, includes:
the original fable written by Edgar A. Poe;

the French translation by Charles Baudelaire; 

the Italian translation written by Giuseppe Ungaretti in 1910. This translation, considered to be Ungaretti's first important accomplishment, has been only recently found in Alexandria of Egypt, where the Poet spent his youth, and appears here for the first time in Italy printed by Tallone, after the first and only appearance in 1910 on an Egyptian newspaper)
The postface by philologist Carlo Ossola, member of the Collège de France, highlights the magnitude of Poe's influence on the poetic production of Ungaretti, particularly on the "Porto Sepolto" anthology.
A volume in the 32° format, entirely set by hand with the original Garamond types cast by  Deberny&Peignot in Paris, has been published in few copies.
This is the smallest Tallone book ever printed, its format very close to that of Edgar Allan Poe "Le corbeau", printed by Alberto Tallone in 1948 in Paris. 
***
The number of movable types handled for the typesetting of this book, makes it an exceptional endeavor in contemporary fine printing.
Printed on very fine paper and sewn by hand, this collector's edition is a sophisticated gift meant to last over time and designed to give the best reading experience possible.
It is handmade in the most ancient typographic studio in the world still in activity, where handmade bookmaking and continue aesthetic research combine to give each book a unique design, never repeated in standard book series.
Neither monotype nor linotype are used. These typesetting systems from a keyboard are often passed off as manual typography. The Tallone Press also does not print from plastic plates derived from digital compositions.