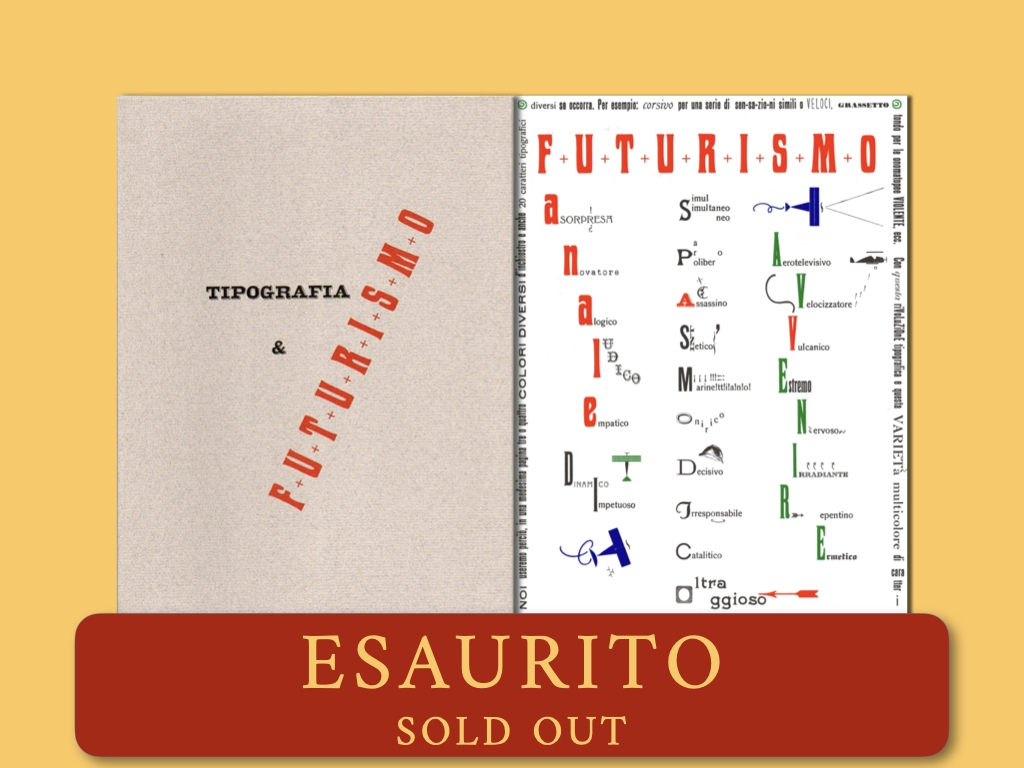  
Tipografia & Futurismo
SOLD OUT
Limited edition of 130 copies typeset by hand in movable types, letter by letter, and letterpress-printed.
Polychrome broadsheet, set by hand in original foundry types cast between 1870 and 1909, the same used by Futurist artists for their graphic works and manifests. The slipcase includes a second broadsheet typeset by hand in Semplicità type (Nebiolo, 1927) which illustrates Futurist typography.
Complimentary gift wrapping and personalized message for the receiver available at checkout*
(*) no additional charge will be applied
Shipping costs calculated at checkout
 Limited print run of 130 copies, of which 112 printed on Magnani paper, 12 on Chinese traditional papers and 6 special copies, elaborated with typographic inks.
«The Manifesto del Futurismo designed by Enrico Tallone with Mauro Chiabrando is a good example of how Enrico revives and uses in a creative way his vast archive of movable types. Set with Eclectic fonts, the work is a kind of "infographic" of the ideals of Italian Futurism: we see on it a little half-moon being stabbed by a dagger ("let's kill the moonlight" was a famous Futurist declaration) and little aeroplanes, one of which is dropping exclamation marks that look like bombs (Futurists had a passion for new technologies and war). The Manifesto is also a brilliant demonstration of how the art of typography can become illustration» Chiara Nicolini, Illustration, 48, London.
***
Printed on very fine paper and sewn by hand, this collector's edition is handmade in the most ancient typographic studio in the world still in activity, where handmade bookmaking and modern aesthetic combine to give the best possible reading experience.
Tallone book is a sophisticated, valuable gift meant to last over time.
Neither monotype nor linotype are used. These typesetting systems from a keyboard are often passed off as manual typography. The Tallone Press also does not print from plastic plates derived from digital compositions.