 
Discurso de Stockholm - Pablo Neruda
FIRST ORIGINAL EDITION (1969)
Limited edition of 270 copies typeset by hand in movable types, letter by letter, and letterpress-printed. In Spanish.
Moving speech held by Pablo Neruda in Stockholm at the Nobel Prize awarding ceremony.
This copy, which comes from the printer's collection, has been put on sale in conjunction with the 50th anniversary year of the awarding of the Nobel Prize to Pablo Neruda (1971-2021).
Complimentary gift wrapping and personalized message for the receiver available at checkout*
(*) no additional charge will be applied
Shipping costs calculated at checkout
This is copy 215/270 letterpress-printed on Sant'Ilario paper, made in Pescia. 
340 copies were printed, divided in the following editions:
270 copies on on Sant'Ilario paper, made in Pescia;
35 copies on Hosho paper handmade in Japan;
25 copies on Torinoko Kozu paper handmade in Japan;
10 copies on Torinoko Elfenbein paper handmade in Japan.
BOOK CONDITION: very good. This copy has never left the printer's premises.
The book comes with its original slipcase and box.
A volume in the 4to format (cm 33x21) of 64 pages typeset by hand in Garamond type.
With the following letter (March 19, 1972) Neruda sent his Discurso to Tallone, who printed it in first edition later on that same year: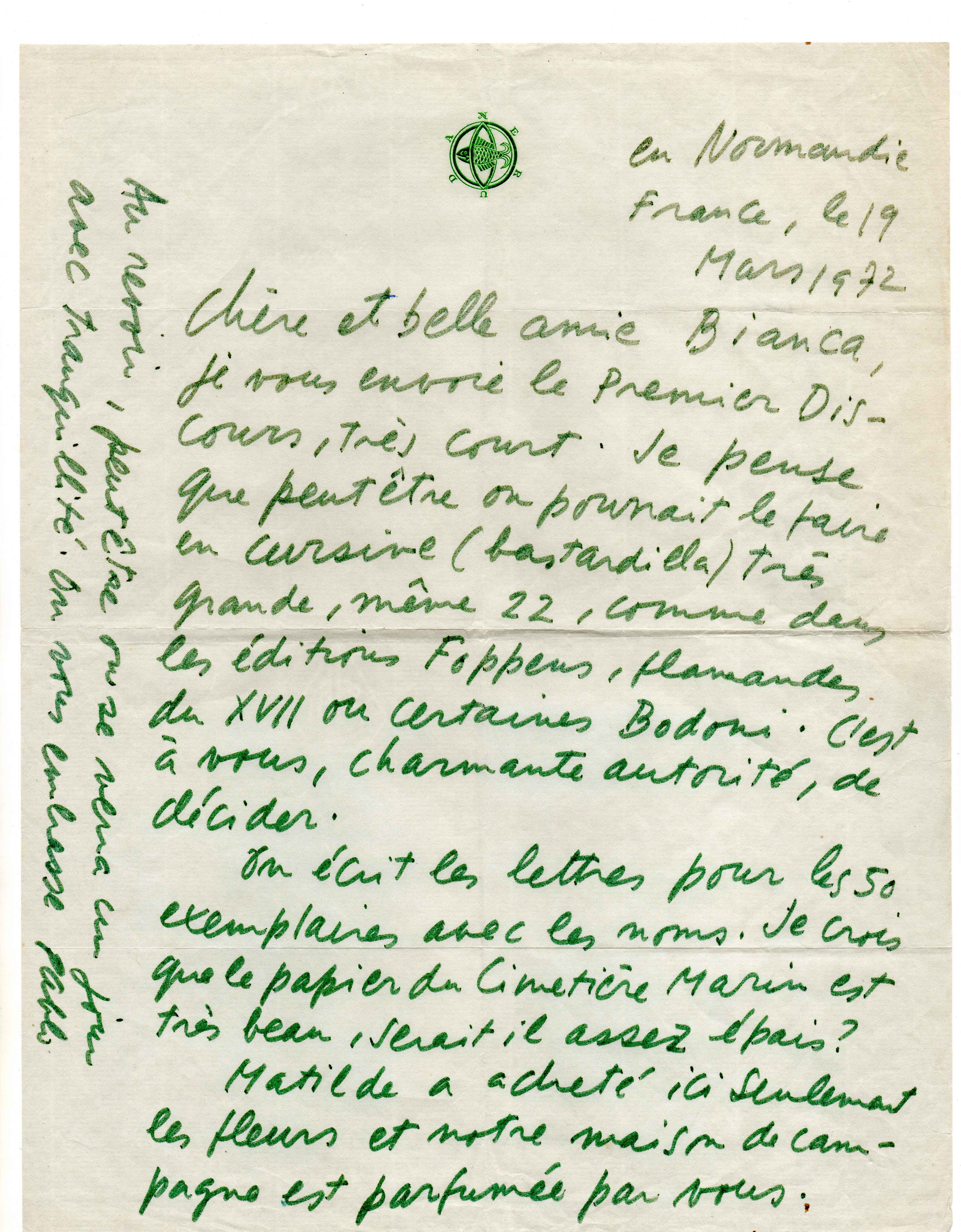 ***
The number of movable types handled for the typesetting of this book, makes it an exceptional endeavor in contemporary fine printing.
Printed on very fine paper and sewn by hand, this collector's edition is a sophisticated gift meant to last over time and designed to give the best reading experience possible.
It is handmade in the most ancient typographic studio in the world still in activity, where handmade bookmaking and continue aesthetic research combine to give each book a unique design, never repeated in standard book series.
Neither monotype nor linotype are used. These typesetting systems from a keyboard are often passed off as manual typography. The Tallone Press also does not print from plastic plates derived from digital compositions.
Data sheet
Typefaces

typeset by hand in Garamond type