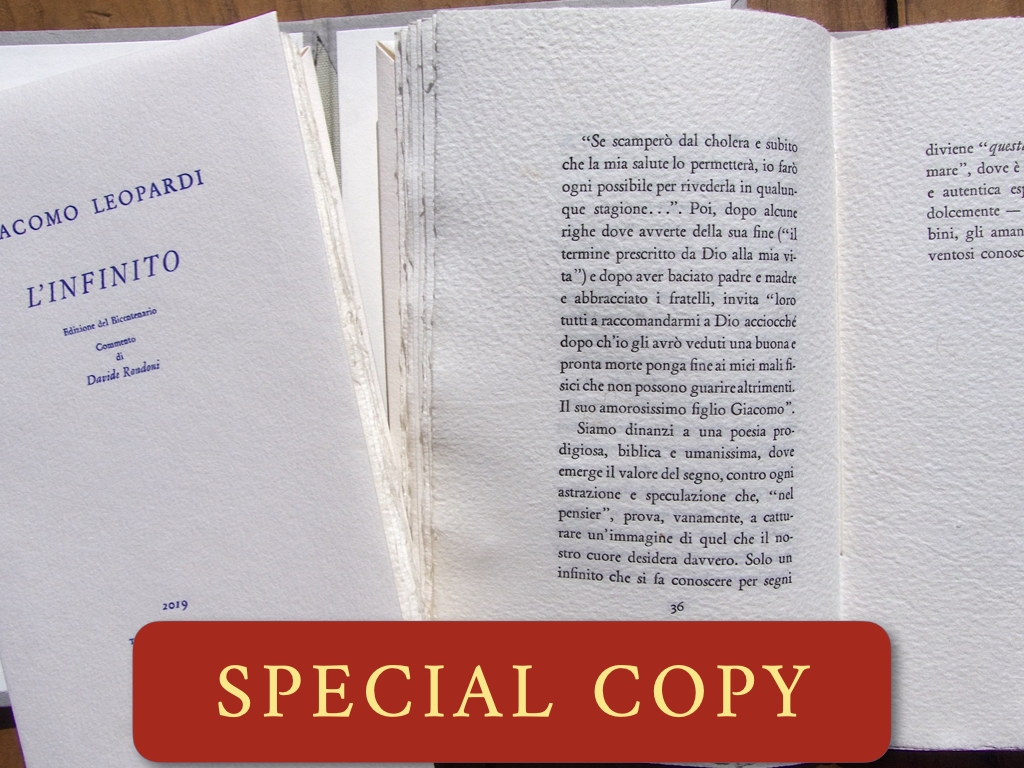  
L'Infinito - Giacomo Leopardi
Limited edition of 9 copies typeset by hand in movable types, letter by letter, and letterpress-printed.
The essay by Davide Rondoni unveils the secrets and meanings of this universal sonnet, which relates the nature of man to the infinite.
Complimentary gift wrapping and personalized message for the receiver available at checkout*
(*) no additional charge will be applied
Shipping costs calculated at checkout
This is one of 9 numbered copies printed on Magnani handmade paper which is characterised by a rough surface.
Volume in 32mo format (10.5x16.5 cm) of 63 pages typeset by hand in Garamond types, handcut on steel punches by Henri Parmentier, and cast in Paris by Deberny & Peignot in 1914: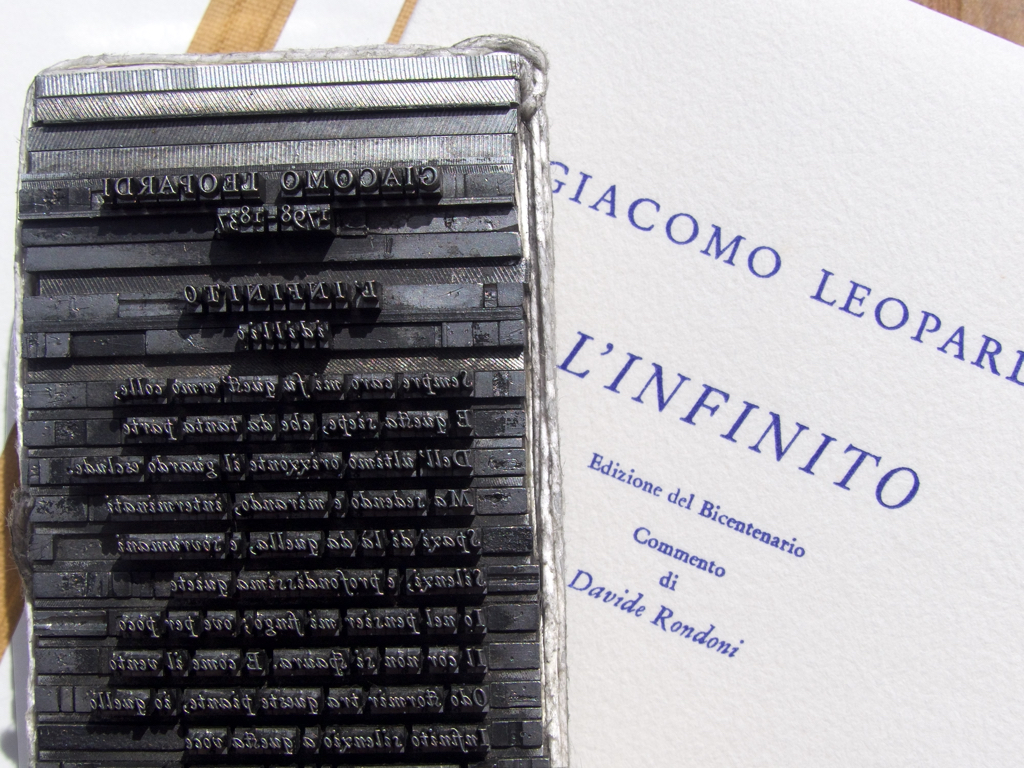 ***
The number of movable types handled for the typesetting of this book, makes it an exceptional endeavor in contemporary fine printing.
Printed on very fine paper and sewn by hand, this collector's edition is a sophisticated gift meant to last over time and designed to give the best reading experience possible.
It is handmade in the most ancient typographic studio in the world still in activity, where handmade bookmaking and continue aesthetic research combine to give each book a unique design, never repeated in standard book series.
Neither monotype nor linotype are used. These typesetting systems from a keyboard are often passed off as manual typography. The Tallone Press also does not print from plastic plates derived from digital compositions.
***
142 numbered copies have been printed of this book, of which:
- 58 printed on light-blue Magnani handmade paper, whose watermark reads "Le Carte" (our of run);
- 31 printed on heavy white Magnani handmade paper.
- 25 printed on ivory-colored Magnani handmade paper, which has a watermark reading "Le Carte";
- 16 printed on cream-colored Roma paper, handmade in Fabriano;
- 9 printed on rough-surface Magnani handmade paper;
- 3 printed on original 18th-century laid paper, handmade when the poet Giacomo Leopardi lived. This paper, produced in Tuscany, has the typical three-lilies watermark.
***
The volume is housed in a hand-made slipcase and box, custom made to an exact size, whose exteriors are covered with Ingres paper. The book title is letterpress-printed on the slipcase's spine.
Data sheet
Size (cm)

10.5x16.5

Typefaces

typeset by hand in Garamond types, cast in Paris by Deberny & Peignot.

Paper

rough-surface Magnani handmade paper.

Number of pages

63

Total print run

9

Weight (kg)

0,5