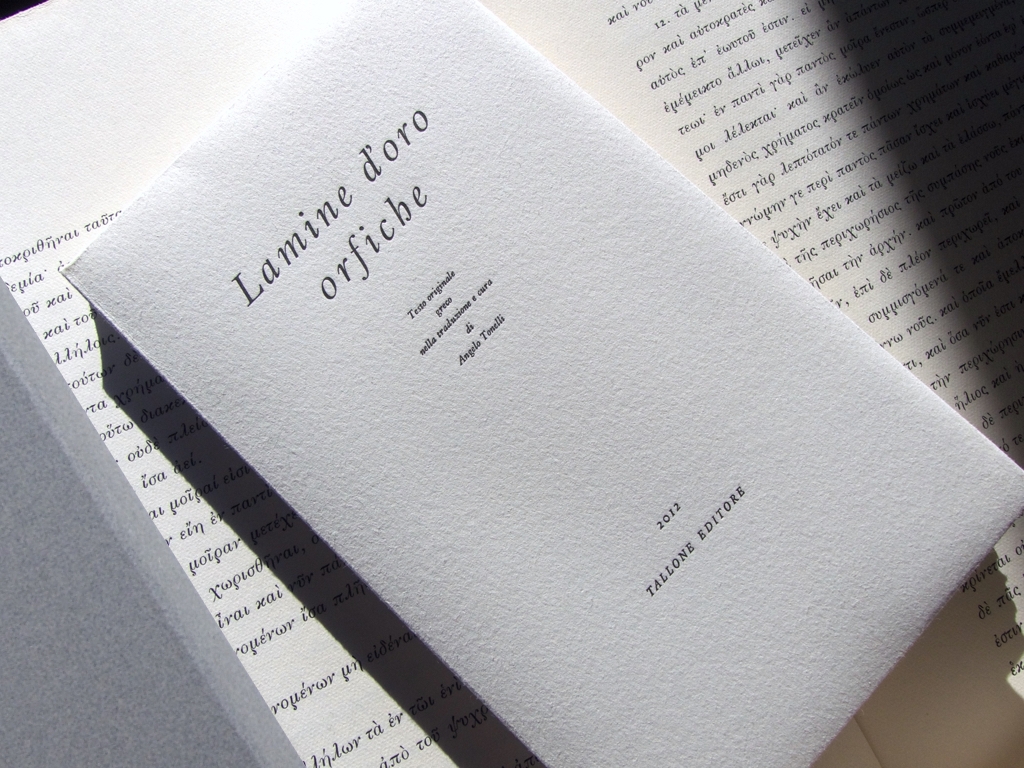  
Lamine d'oro orfiche
Limited edition of 8 copies typeset by hand in original 19th-century movable types.
The 'Orphic' gold tablets are tiny scraps of gold foils engraved with precepts meant as instructions to enter the Afterlife. Those fascinating invocations are one of the first evidence of ancient Greek religion, and exerted a great influence on later Greek culture.
Complimentary gift wrapping and personalized message for the receiver available at checkout*
(*) no additional charge will be applied
Shipping costs calculated at checkout
This is one of 8 numbered copies letterpress-printed on Zerkall cotton paper, made in Germany.
Overall, 154 numbered copies of this edition were printed, on European and exotic papers. 
***
This is a bilingual edition (ancient Greek and Italian).
Volume in 16mo format of 70 pages (cm11x18) typeset by hand in original 6-pt Neue Griechisch Cursive type, cast in 1885 by Shelter & Giesecke in Leipzig. These tiny types were cut by hand on steel punches using a fine burin, and cast by Nebiolo at the end of the 19th century.
The translations into Italian were handset in 6-pt Garaldus types, cast by Nebiolo, Torino, in 1955. 
The small size of the types chosen for this edition recalls the tiny dimensions of the inscriptions found on the golden foils.
***
The 'Orphic' tablets date back to the V-III century b.C., and were found in graves throughout the ancient Greek world. They were destined to those initiated to the Orphism, in order to experience, in the afterlife, the supreme experience of the identification with the One-Whole.
The Orphic creeds exerted great influence on later Greek culture: in fact, evidence of Orphic elements is found in the writings of many later Greek philosophies.
Greek type case (6-point):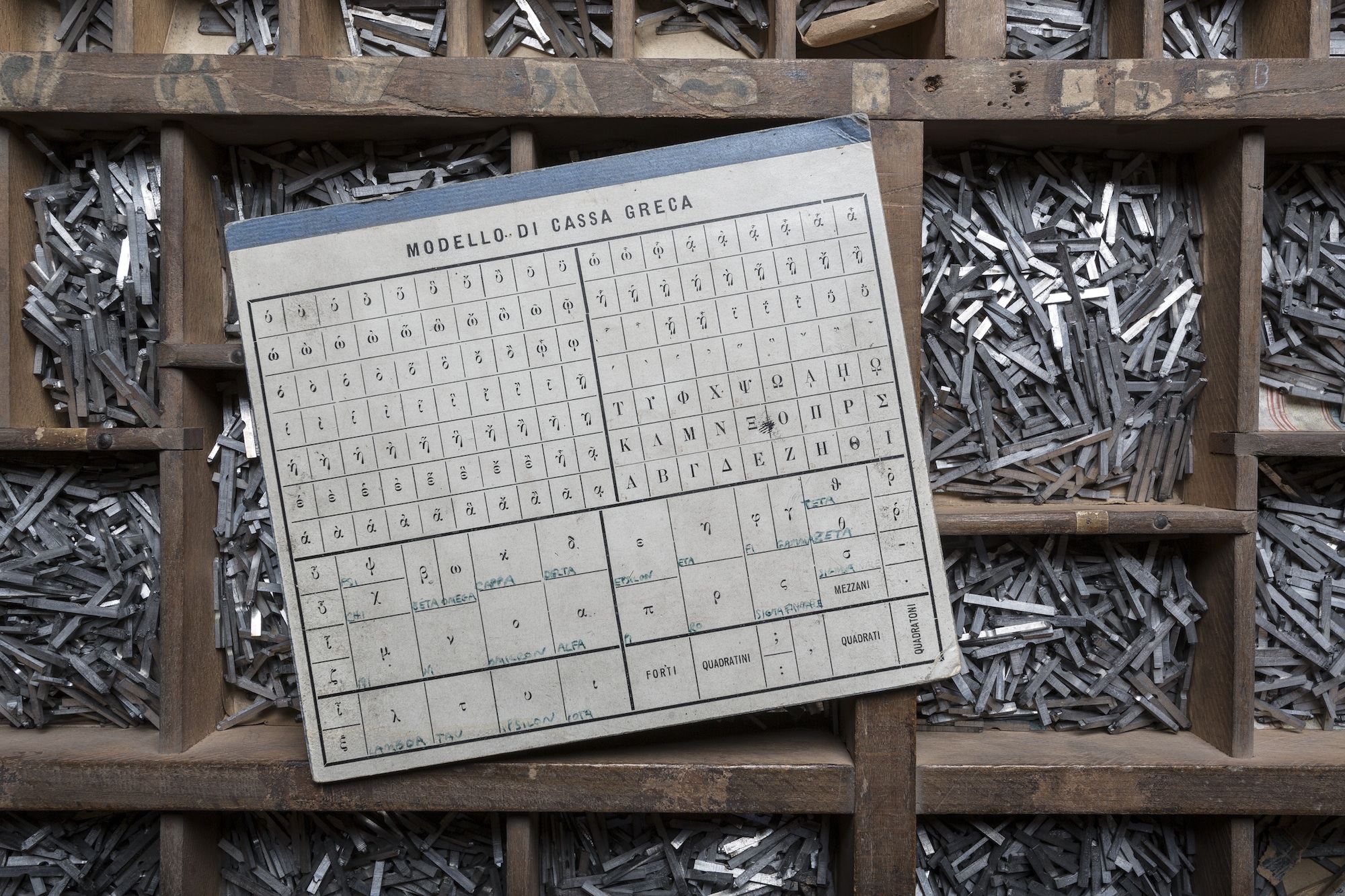 ***
Preface and Italian translation by Angelo Tonelli.
****
The volume is housed in a hand-made slipcase and box, custom made to an exact size, whose exteriors are covered with Ingres paper. The book title is letterpress-printed on the slipcase's spine.
***
The number of movable types handled for the typesetting of this book, makes it an exceptional endeavor in contemporary fine printing.
Printed on very fine paper and sewn by hand, this collector's edition is a sophisticated gift meant to last over time and designed to give the best reading experience possible.
It is handmade in the most ancient typographic studio in the world still in activity, where handmade bookmaking and continue aesthetic research combine to give each book a unique design, never repeated in standard book series.
Neither monotype nor linotype are used. These typesetting systems from a keyboard are often passed off as manual typography. The Tallone Press also does not print from plastic plates derived from digital compositions.
Data sheet
Size (cm)

11x18

Typefaces

Typeset by hand in 6 point Greek italic types, derived from the punches hand-cut in the 19th century and cast by Deberny in Paris, and in 6 point Garaldus roman and italic types, cast by Nebiolo in Turin.

Paper

Cotton Zerkall paper

Number of pages

70

Total print run

8

Weight (kg)

0,6