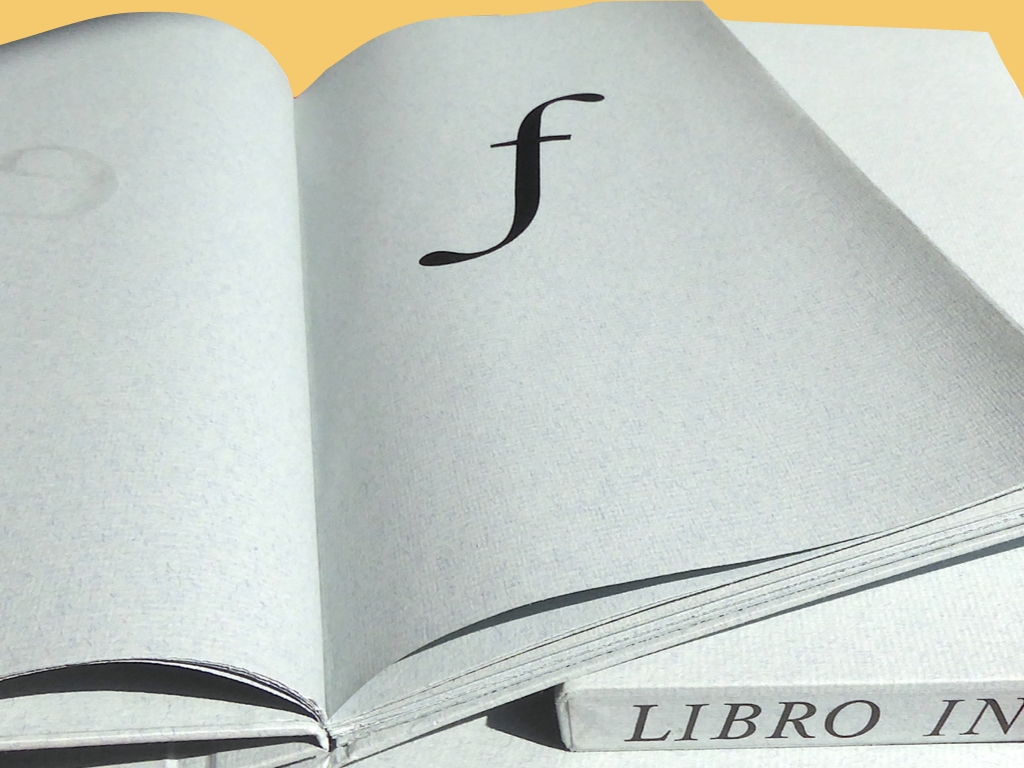  
Libroinfinito
Print run of 22 copies. A tribute to the 26 letters of the alphabet which give form to Literature, Libroinfinito-Abecedary Book is designed so as to create a circular 'infinite' reading experience.
Design by Giulio Iacchetti & Tallone Press.
Complimentary gift wrapping and personalized message for the receiver available at checkout*
(*) no additional charge will be applied
Shipping costs calculated at checkout
This is one of 22 numbered copies printed on light-blue Ingres Cover Fabriano.
«Libroinfinito is a book designed to occupy a privileged place in homes. Its spine lies in the center and separates the sheets into two identical parts, turning it into an "infinite" and circular reading experience. Its content has to be invented, a world to imagine, ordered by an abecedary, whose 26 letters comprehend the whole universe of the Thought» Giulio Iacchetti (Industrial designer. Prize Compasso d'Oro 2001 and 2014).
One side of Libroinfinito shows the uppercase alphabet, whose proportions have not changed in two-thousands years, since Romans sculpted it on marble. The other side shows the lowercase alphabet, unchanged since Renaissance and which remains today publishers' favorite font.
 «For eighty years we have been working with unique alphabets cut by hand, a mirror of Western civilisation. Abecedary Book, through the graceful shapes of Bembo and Tallone types, stands as a tribute to the 26 letters which permit us to give form to Literature» Enrico Tallone.
***
Partially typeset by hand in Tallone type, and partially typeset in Bembo italic types, Libroinfinito (cm 32x30) is housed in a double box that allows to store it vertically in the bookcase.
 «I only briefly looked into the vertiginous wisdom of the publishing house Tallone, inside the world of letterpress printing, made of movable foundry types, exclusive and original fonts, beautiful papers, ink shades and handmade binding. All this was enough to understand that the result of this incredibile craftsmanship, the book made in Tallone, could no longer be hidden in a book case, next to other books, perhaps even anonymous or industrial» Giulio Iacchetti
***
A few other copies have been printed as follows, for a total print run of 50 copies:
- 18 numbered copies on handmade white Umbria Fabriano (available on this website);
- 6 numbered copies on handmade cream-colored Umbria Fabriano;
- 2 numbered copies on "all'onda" paper, expressly handmade in 1966 for the restoration of the ancient books which were damaged by the flood happened in Florence on November 4th,
- only copy on handmade Hosho paper made in Japan (no more available);
- only copy on 19th-century Chinese paper.
***
Numbered and limited edition typeset by hand in original foundry types and letterpress printed on very fine exclusive paper, made to last. Each copy is sewn by hand, and individually numbered and signed by the publisher. 
Due to its unique features, this fine-press book is a coveted collector's edition and a sophisticated gift idea, entirely handset in movable types.
Tallone timeless books are strictly handmade according to the highest tradition of manual typography, fine printing and handmade bookmaking, and are meant to last.
Tallone collectible books are a symbol of made in Italy: they are the only ones in the world typeset by hand and totally handmade in the most ancient typographic studio in the world still in activity since the 18th century.
Data sheet
Size (cm)

32x30

Typefaces

Bembo e Tallone®

Paper

Ingres Cover Fabriano celeste

Number of pages

56

Total print run

22

Weight (kg)

1,3