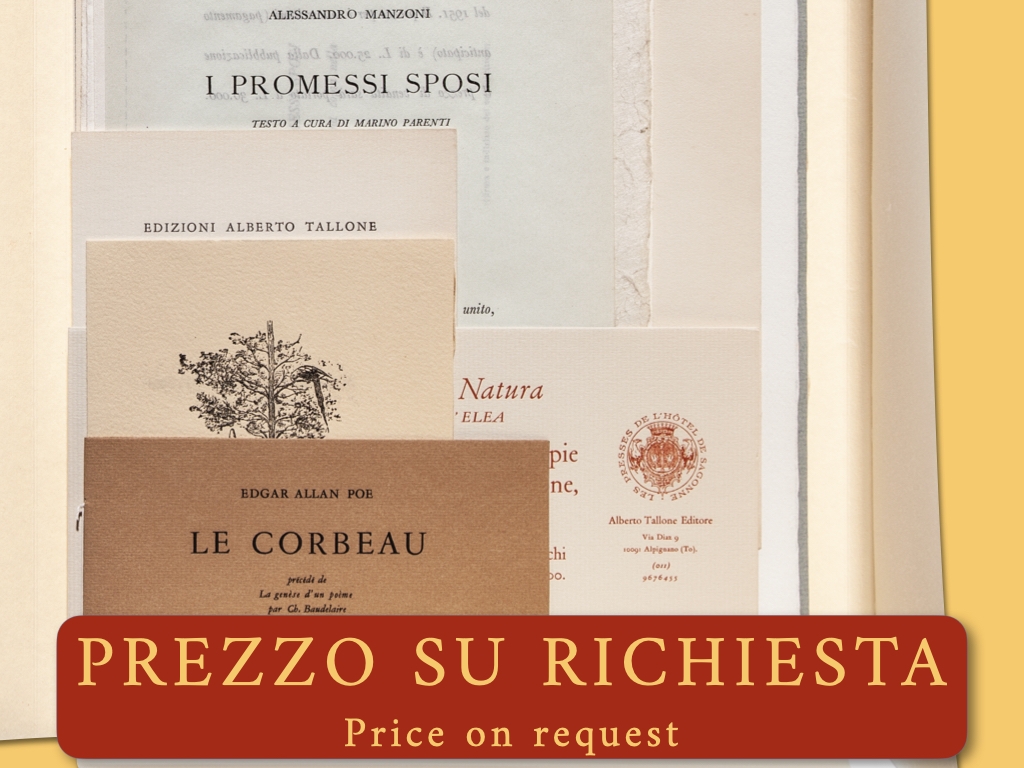  
Complemento al Manuale Tipografico I
– PRICE ON REQUEST – STILL AVAILABLE BY CONTACTING THE PRINTER –  

Limited edition of 156 copies typeset by hand in movable types, letter by letter, and letterpress-printed.
Dedicated to the aesthetics of indexes, colophons and book prospectuses. Includes original specimens from the 1930s onwards.
Complimentary gift wrapping and personalized message for the receiver available at checkout*
(*) no additional charge will be applied
Shipping costs calculated at checkout
Volume in the 4to format (cm23x37) set by hand in 12pt Tallone type, designed by Alberto Tallone and cut by Charles Malin in Paris.
This edition includes:
- 19 indexes and colophons of Tallone books printed in Paris between 1930s and 1950s, faithfully reproduced and set by hand using with the same foundry types;
- 8 original indexes and 8 original colophons from Tallone books printed in the 1950s and following decades;
- original subscription flyers, prospectuses, and announces of Tallone books from the late 1930s to nowadays. 
Essays by Enrico Tallone, Piero Scapecchi and Mauro Chiabrando. 
PRINT RUN
- 80  copies on Magnani paper made of cotton;
- 40 copies on pure-cotton paper made in Sicily
- 36 copies on ancient and handmade Fabriano papers.
***
THE "MANUALI TIPOGRAFICI" SERIES
Each volume of the set include essays by researchers and scholars about the different aspects of book design (types, formats, pagination, papers, inks), each illustrated through original specimens which are classified by epoch and provenance.
Each volume is unique, since the original specimens which are included within vary from one copy to another.
«The collection of Manuali Tipografici printed by the Tallone Press is the most important historical-typographic endeavor since the second half of the twentieth century, the first in the world for quality, breadth, elegance and documentation» Michelle Delattes, CHARTA, 2019