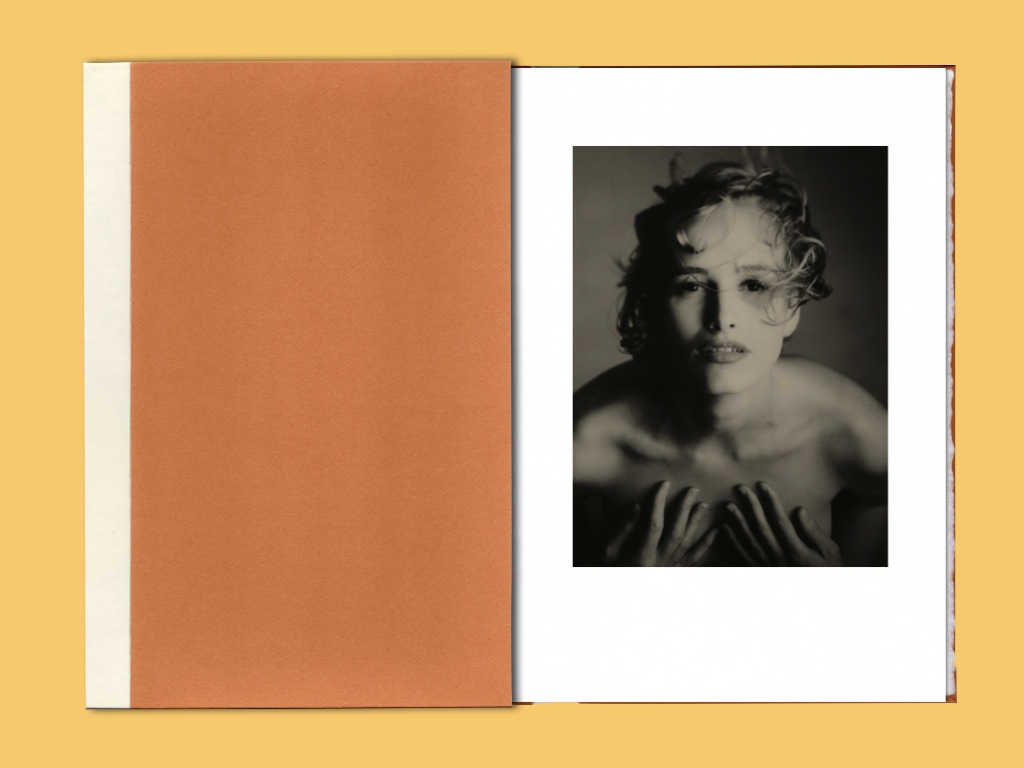  
Dal paradiso o un poco più in basso – Giovanni Gastel
This edition brings together for the first time poems and photographs by Giovanni Gastel. The book includes three unpublished poems and three original photographs. 
Print run of 30 copies.
Complimentary gift wrapping and personalized message for the receiver available at checkout*
(*) no additional charge will be applied
Shipping costs calculated at checkout
The three unpublished poems and the three original b&w photographs (20x15 cm) have a common thread, which is the female figure, so crucial in shaping the author's life and career, declined, here, in its plural archetypal meanings: Beauty, Angel and Demon.
Volume (cm 38x25) of 20 pages typeset by hand in Forma Light.
This type was exceptionally created by a team of as many as eight designers (Aldo Novarese, Giancarlo Iliprandi, Bruno Munari, Franco Grignani, Ilio Negri, Till Neuburg, Luigi Oriani, and Pino Tovaglia) and cast by Nebiolo Foundry. It is a type that gives light, and, like photography, lets the gaze pass through.
* * *
Numbered and limited edition typeset by hand in original foundry types and letterpress printed on very fine exclusive papers, made to last. Each copy is individually numbered and signed by the publisher. 
Due to its unique features, this book is a coveted collectible/collector's edition and a sophisticated gift idea. 
Tallone timeless books are strictly handmade according to the highest tradition of manual typography and  handmade bookmaking, and are meant to last. 
Thirty copies were printed, numbered and signed by Giovanni Gastel.
The edition was printed on B.F.K. Rives paper made of pure cotton.
The photographs (20x15 cm) were printed by Diego Locatelli on pure cotton Hahnemühle Museum paper with carbon pigment inks.
The vibrant black of the photographs, derived from carbon pigments, is matched by the equally intense carbon black ink chosen for the texts.
This edition brings together for the first time poems and photographs by Giovanni Gastel.
The poems were chosen by Barbara Radice, author of the preface to the edition.
* * *
The volume is housed in a hand-made slipcase and box, custom made to an exact size, whose exteriors are covered with Ingres paper and Scottish parchment. The book title is letterpress-printed on the slipcase's spine.
* * *
Giovanni Gastel was born in Milan on December 27th, 1955 to Giuseppe Gastel and Ida Visconti di Modrone, the last of seven children.
In 1967, at the age of twelve, Gastel starts showing his artistic vocation, joining experimental acting companies, for which he acts until the age of seventeen.
At the same time, he develops a passion for poetry and at sixteen Cortina publishes his collection of poems named Casbah.
His first contact with photography takes place in the 1970s. From that moment on, a long period of apprenticeship begins, during which he shoots pictures at weddings, makes portraits, small still-lives and occasional kids' fashion photo sessions, while an important opportunity is offered him in 1975-76, when he starts working for the auction house Christie's.
The turning point takes place in 1981 when he meets Carla Ghiglieri who becomes his agent and introduces him to the world of fashion. Following the appearance of his first still-lives on the magazineAnnabella, in 1982, he starts collaborating with Vogue Italia and then, thanks to the encounter with Flavio Lucchini, director of Edimoda, and Gisella Borioli, with the magazines Mondo Uomo and Donna.
From this moment on, his professional activity becomes more intense and he starts collaborating with the most prestigious fashion magazines both in Italy and abroad, most of all in Paris.
During these years of intense professional commitment he elaborates his unique style, characterized by a poetic irony, while his passion for art leads him to introduce in his pictures the taste for a well-balanced composition. His references are, for his still-lives, Pop Art, which he could see on display at Rotonda della Besana since the early 1970s, and the photographic works of Irving Penn. Taking his inspiration also from the study of Renaissance Art, Gastel constantly goes back to an ideal of elegance he has been in contact with since his early youth, mostly thanks to his mother.
Around the mid-1980s, he founds Gastel&Associati with Angelo Annibalini and Uberto Frigerio, with which he intends to promote the introduction into the professional world of young photographers, either grown in his studio, or met during his many workshops.
His active commitment in the world of photography brings him closer also to the Associazione Fotografi Italiani Professionisti, of which he was President from 1996 to 1998. Since then he has been its Honorary President.
The artistic consecration takes place in 1997, when the Triennale di Milano dedicates him a personal exhibition, curated by the contemporary art historian Germano Celant, in which about 200 pictures, evidence of his long and prolific career, are exhibited. Gastel utilizes the "old mix" techniques, the junction ones, pictorial rielaborations, decouplings and stratifications, up to the digital touch-up.
His professional success consolidates in the following decade, up to the point in which his name appears on specialized magazines together with those of Italian photographers such as Oliviero Toscani, Giampaolo Barbieri, Ferdinando Scianna, or next to those of Helmut Newton, Richard Avedon, Annie Leibovitz, Mario Testino and Jurgen Teller.
In 2002, within the La Kore Oscar della Moda event, he was awarded the Oscar for photography. Honorary President of the Associazione Fotografi Italiani Professionisti and permanent member of the Polaroid Museum of Chicago, he carries out his working activity in his Via Tortona studio in Milan, where he continues developing his passion for poetry – his last collection is entitled Cinquanta – and photographic research outside the patterns of fashion.
Data sheet
Size (cm)

21x34

Typefaces

Typeset by hand in Forma Light. This type was exceptionally created by a team of as many as eight designers (Aldo Novarese, Giancarlo Iliprandi, Bruno Munari, Franco Grignani, Ilio Negri, Till Neuburg, Luigi Oriani, and Pino Tovaglia) and cast by Nebiolo.

Paper

B.F.K. Rives paper, made of pure cotton.

Number of pages

20

Total print run

30

Weight (kg)

1