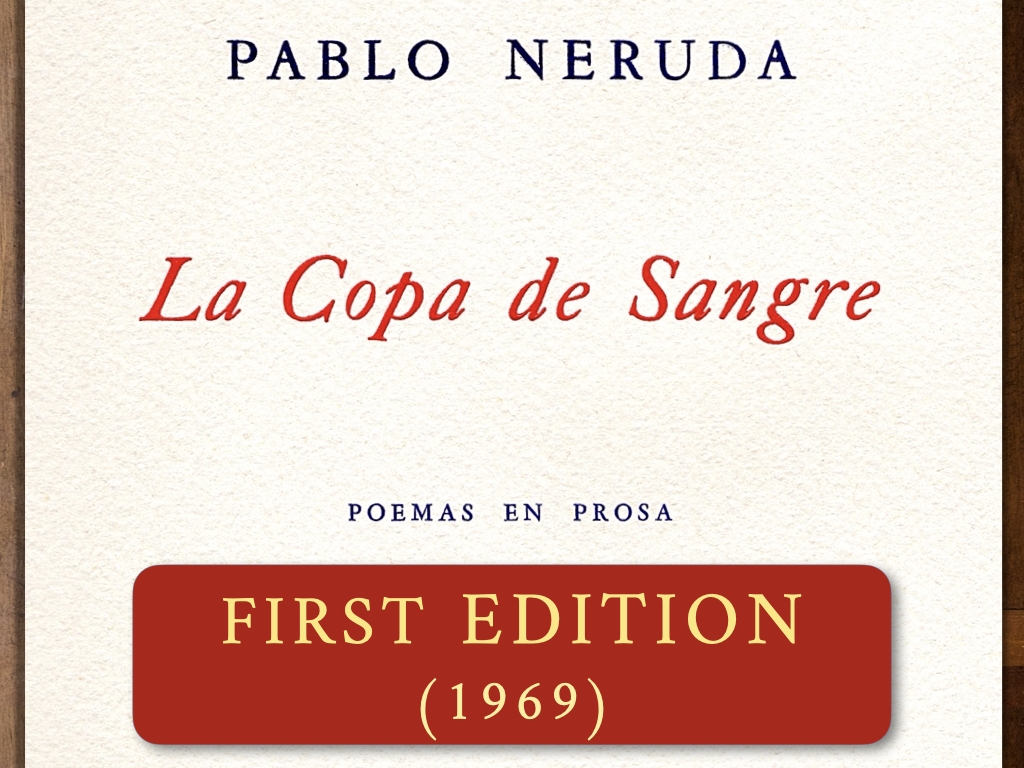  
La Copa de Sangre - Pablo Neruda
FIRST ORIGINAL EDITION (1969)
In Spanish. Limited edition of 470 copies typeset by hand in movable types, letter by letter, and letterpress-printed.
This copy, which comes from the Printer's collection, has been put on sale in conjunction with the 50th anniversary year of the awarding of the Nobel Prize to Pablo Neruda (1971-2021).
Complimentary gift wrapping and personalized message for the receiver available at checkout*
(*) no additional charge will be applied
Shipping costs calculated at checkout
BOOK CONDITION: The book's condition is fine, with no signs of wear, its only flaw consisting in isolated age spotting on page edges and within pages. The book comes with its original slipcase and box. Slight signs of yellowing and foxing appear on the slipcase's inside surface. 
This is one of 470 numbered copies letterpress-printed on acid-free cotton paper made in Fabriano.
507 copies were printed, divided in the following editions:
.470 copies on acid-free cotton paper made in Fabriano;
.12 copies on handmade Hodomura paper made in Japan (sold out);
.25 copies on handmade Hosho paper made in Japan (sold out);
***
A volume in the 8vo format (18,5x29,5cm) of 104 pages typeset by hand in the exclusive Tallone type, designed by Alberto Tallone, cut on punches by Charles Malin in Paris.
The book includes eight prose texts (La copa de sangre, Valparaíso, Oceanografia dispersa, Una pierna para Fernand Léger, Escarabagia, Un escarabajo, En su estudio non se pone el sol), and is rounded off by the text Adiós a Tallone, in memory of Alberto Tallone who died while the making of the book was underway.
The following letter is part of the correspondence exchanged between Neruda and the Press during the making of the book: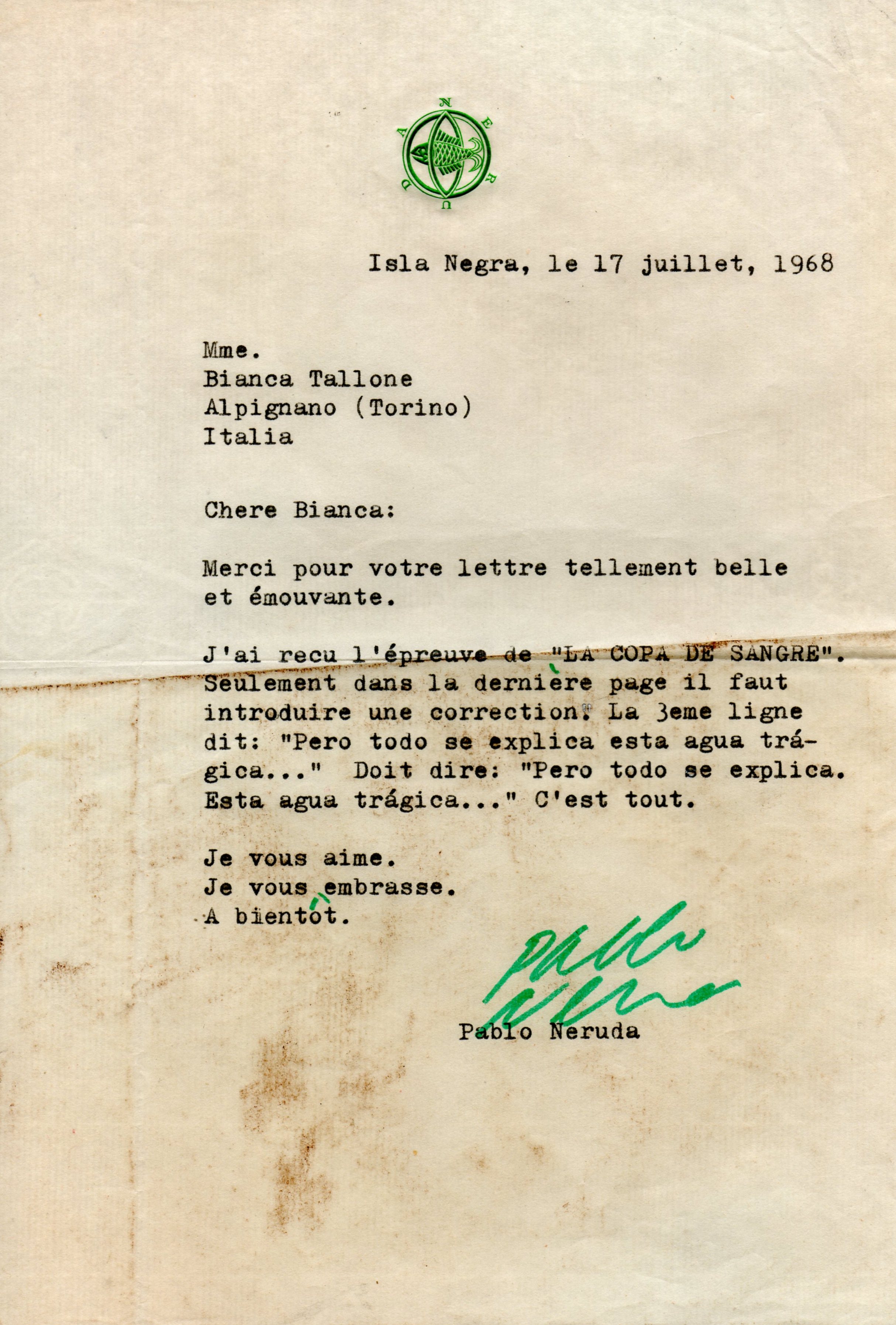 ***
The number of movable types handled for the typesetting of this book, makes it an exceptional endeavor in contemporary fine printing.
Printed on very fine paper and sewn by hand, this collector's edition is a sophisticated gift meant to last over time and designed to give the best reading experience possible.
It is handmade in the most ancient typographic studio in the world still in activity, where handmade bookmaking and continue aesthetic research combine to give each book a unique design, never repeated in standard book series.
Neither monotype nor linotype are used. These typesetting systems from a keyboard are often passed off as manual typography. The Tallone Press also does not print from plastic plates derived from digital compositions.
Data sheet
Size (cm)

Typefaces

Number of pages