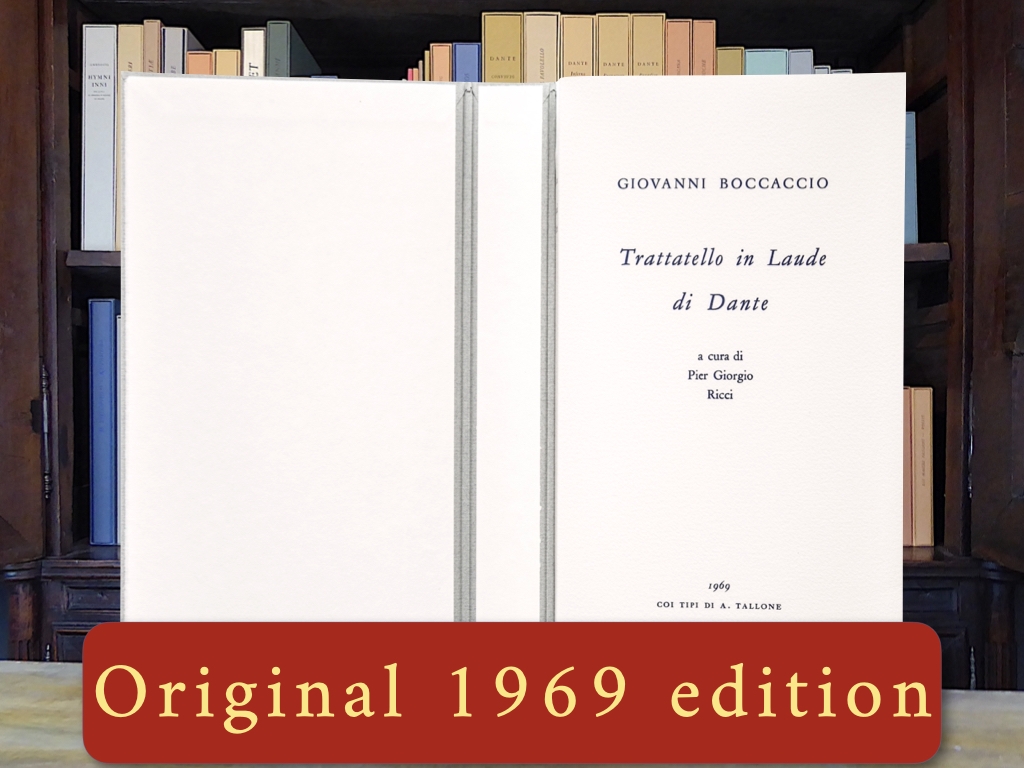  
TRATTATELLO IN LAUDE DI DANTE - BOCCACCIO
Few copies left, now on sale at a special price in conjunction with the 700th anniversary of Dante's death (1321-2021).
Original 1969 edition.
The life of Dante, already a legend a few years after his death, narrated by the greatest storyteller of his time, the author of the "Decameron".
Limited edition of 600 copies typeset by hand in movable types, letter by letter.
Complimentary gift wrapping and personalized message for the receiver available at checkout*
(*) no additional charge will be applied
Shipping costs calculated at checkout
BOOK CONDITION: very good. This copy comes from the printer's collection, and it has never left the printer's premises. 
Italian edition.
Volume in 8to oblong format (cm 15x28x3) of 186 pages entirely typeset by hand in Garamond type, hand-cut on punches by Henri Parmentier in 1914, and cast by Deberny Foundry in Paris.
This is one of 600 numbered copies printed letterpress on pure-cotton Magnani paper, made in Pescia (Lucca).
Moreover, 62 special copies were printed, of which:
. 50 copies on handmade Magnani paper;
. 3 copies on Hosho paper, handmade in Japan. 
***
Add a personalized message for the receiver of your gift. We will print it beautifully, for free, and ship the gift and the message directly to the receiver's address.
***
The volume is housed in a hand-made slipcase and box, custom made to an exact size, whose exteriors are covered with Ingres paper. The book title is letterpress-printed on the slipcase's spine.
***
This edition was sewn by hand in the most ancient typographic studio in the world still in activity, where tradition and modern aesthetic combine to give the best possible reading experience.
Neither monotype nor linotype were used. Tallone Press also do not print from plastic plates (photopolymer), which are derived from digital compositions.
Data sheet
Size (cm)

15x28x3