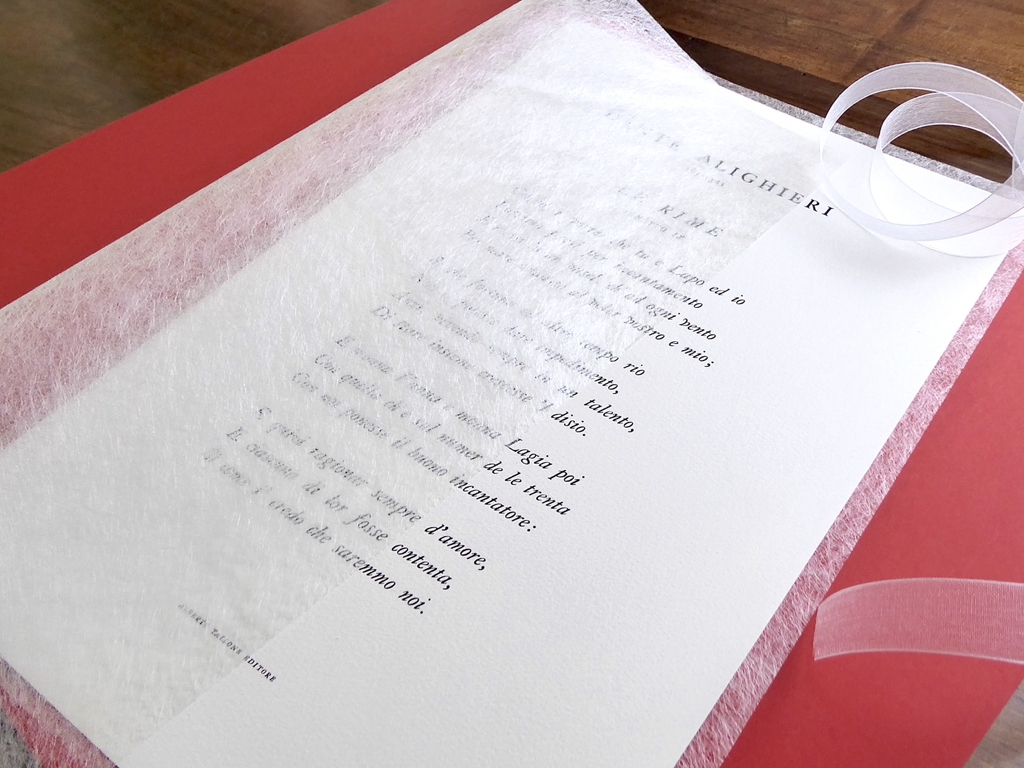  
Sonnet - Dante Alighieri
Immortal poem about friendship.
Broadsheet typeset by hand in movable types, and printed on pure-cotton archival-quality paper expressly made in Dante's Tuscany.
Complimentary gift wrapping and personalized message for the receiver available at checkout*
(*) no additional charge will be applied
Shipping costs calculated at checkout
Wrapped in deluxe "mother-of-pearl" paper, handmade in Japan, and inserted in a cardboard folder of archival quality. 
This sonnet (29x38 cm) has been typeset by hand in original Caslon types. The steel punches of this precious and rare type were hand-cut by William Caslon in London in the first half of the 18th century. These types are part of the original equipment of Tallone's typographic studio, which has been continuously in operation since the 18th century.
Printed letterpress on pure-cotton Magnani paper, mould-made in Dante's Tuscany.
The framed version (€ 60) is also available.
***
Add a personalized message for the receiver of your gift. We will print it beautifully, for free, and ship the gift and the message directly to the receiver's address.
***
Printed on very fine paper, this broadsheet is a sophisticated gift meant to last over time.
Tallone's typographic studio has been continuously in operation since the 18th  century, and its vast endowment of original foundry types and presses is still in use. Neither monotype nor linotype are used. These typesetting systems from a keyboard are often passed off as manual typography. The Tallone Press also does not print from plastic plates derived from digital compositions.
Data sheet
Size (cm)

29x38