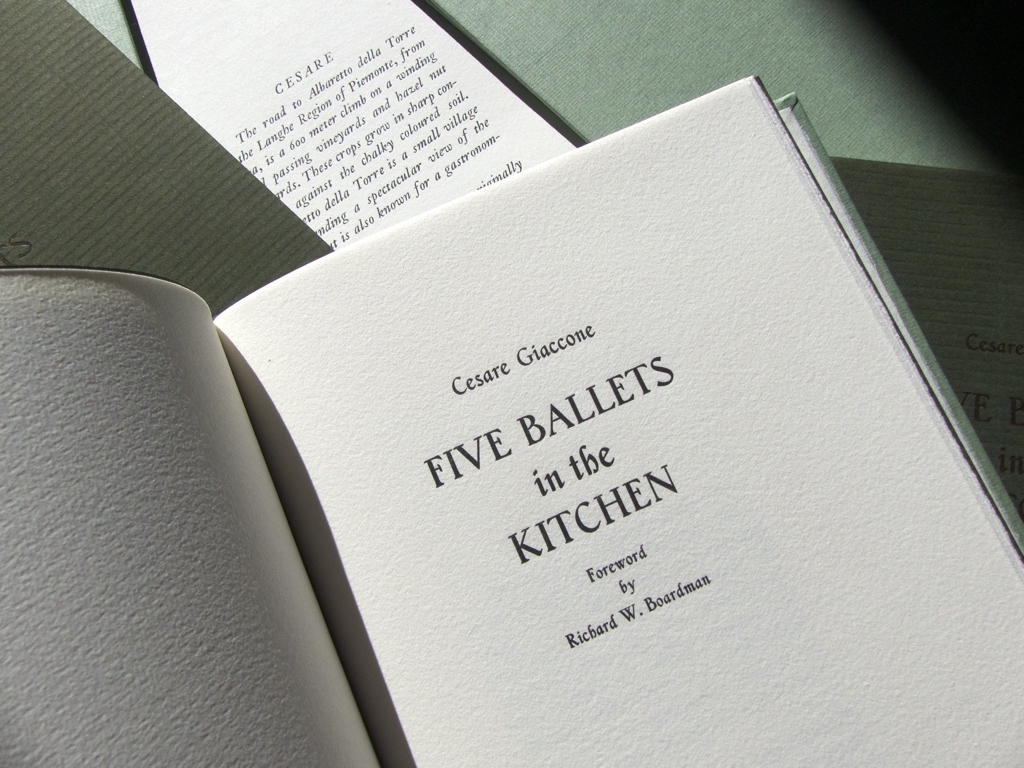  
FIVE BALLETS IN THE KITCHEN
One of 8 deluxe copies typeset by hand in movable types, letter by letter, and letterpress-printed.
Cesare Giaccone from Langhe (Piedmont) is considered by the New York Times to be one of the absolute protagonists of contemporary haute cuisine.
With Autumn in sight, which evokes the pleasure of good food more than any other season, chef Cesare offers us five new recipes.
Complimentary gift wrapping and personalized message for the receiver available at checkout*
(*) no additional charge will be applied
Shipping costs calculated at checkout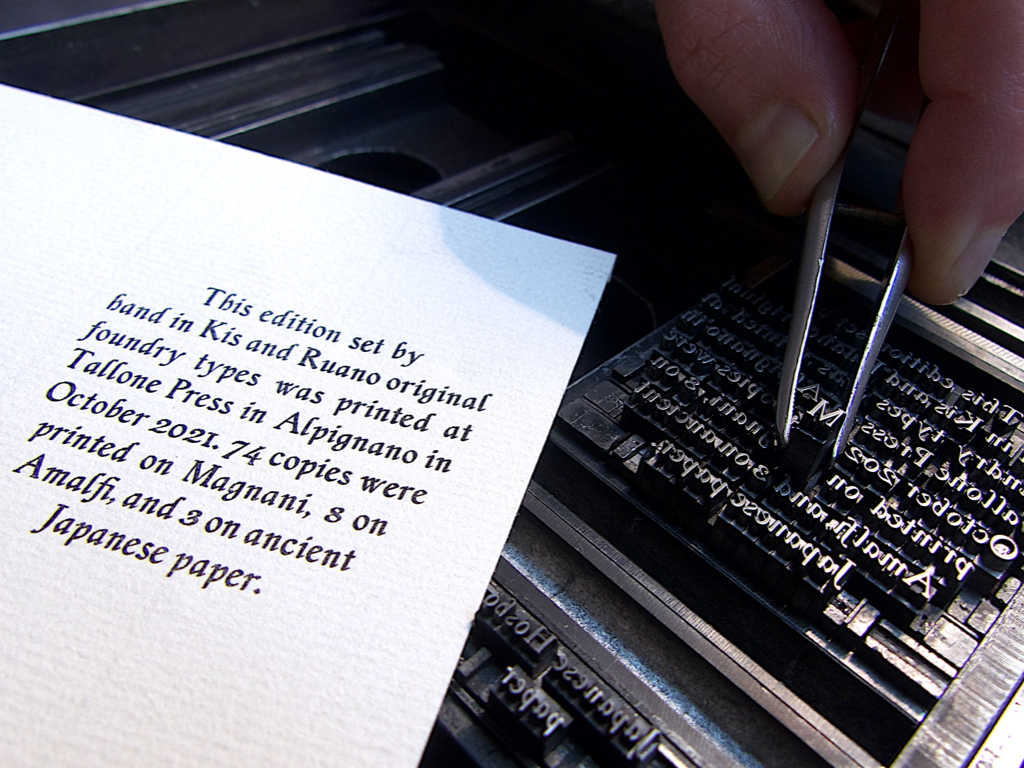 Limited edition of 8 deluxe copies letterpress printed on Amatruda paper mould-made in Amalfi.
***
Moreover, for a total print run of 85 copies, the following copies have been printed:
.74 numbered copies printed on pure-cotton Magnani paper, made in Tuscany;
.3 deluxe numbered copies on ancient Hosho paper, handmade in Japan.
***
«The craft of Tallone, like that of the finest cooking, rises to the level of art. The typography is conservative, impeccable. The pamphlet, a luxury, is an object to collect, an ideal gift. To purchase a copy is to support the highest level of care and handwork» Edward Behr - THE ART OF EATING
Foreword, in English, by Richard W. Boardman. The five recipes, in Italian, are the five ballets of the title. They are published in Italian in order to preserve the sensibility of the language in which he dictated them.

A 28-page paper-bound signature (cm 25x15) in a separate hard cover.
For the typographical composition by hand, two baroque characters were chosen, suitable to describe a cuisine that blends Renaissance magnificence with lightness and modernity. One is the italic type engraved at the end of the 1600s by Nikolas Kis; the second is the sixteenth-century vertical cancelleresca by the Vatican calligrapher Ferdinando Ruano, which graphically interpret the joy and pleasure of conviviality and good food.
***
« Cesare Giaccone, author of the recipes, was born in the kitchen of the family house in Piedmont's Alta Langa, the less forgiving landscape above the Barolo wine zone. His restaurant is in Albaretto della Torre, next to the village of his birth. Cesare is known for memorable meals that combined tradition and modernity in simple but adventurous ways. He is beloved but not necessarily easy; at times the restaurant might be open, or not, without warning». Edward Behr - THE ART OF EATING
***
Printed on very fine paper and sewn by hand, this collector's edition is handmade in the most ancient typographic studio in the world still in activity, where tradition and modern aesthetic combine to give the best possible reading experience.
Neither monotype nor linotype are used. These typesetting systems from a keyboard are often passed off as manual typography. The Tallone Press also does not print from plastic plates derived from digital compositions.