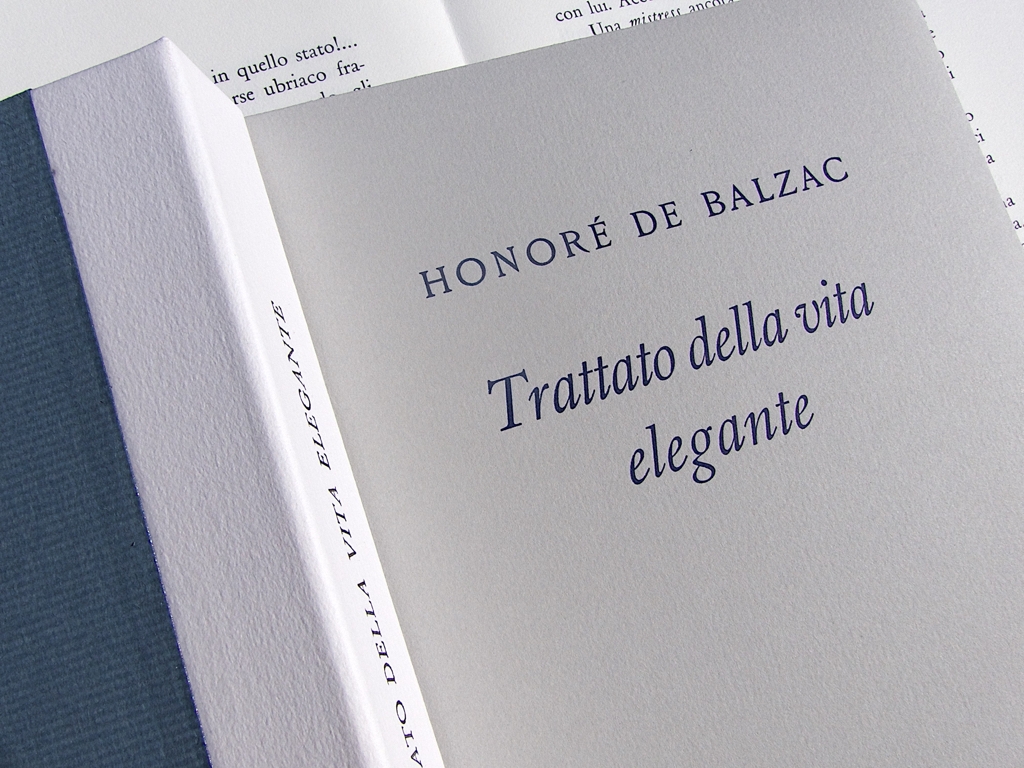  
Trattato della vita elegante - Balzac
Upon request and

 

without additional charge, the book can be

 

personalised with a printed inscription

 

(i.e.: "Copy printed for John Doe"), to be typeset by hand and printed at the beginning of the book.

Limited edition of
193
 copies
typeset by hand and letterpress printed.
Balzac makes a shrewd and ironic critique of the bourgeois society born after the French Revolution, revealing all its ridiculousness and clumsiness. In fact, elegance belongs to few.
Those who climb the rungs of the social ladder have to continually invent new forms of distinction. This resulting cyclical renewal is what we call fashion.
Complimentary gift wrapping and personalized message for the receiver available at checkout*
(*) no additional charge will be applied
Shipping costs calculated at checkout
Italian edition. Translation and preface by Paolo Tortonese.
***
This is one of 193 copies letterpress-printed on pure-cotton pure-cotton wove paper, mould-made in Sicily (280 euros). Ccopies from 1/20 to 20/20 each include a different silk-screen print by Giulio Paolini (2.800 euros);
Moreover, the following special copies were printed:
-18 on light blue Ingres Vidalon laid paper, made in Annonay, France (360 euros);
- 10 on light blue Canson Mi-Teintes, made in Annonay, France (800 euros);
- 3 on pure-cotton hand-made Magnani paper (sold out). This extremely rare paper was specifically made to restore the ancient books of the National Library in Florence, damaged by the flood of the Arno river that occurred in November 4th, 1966. It features a unique watermark, which represents 4 waves (which reminds the date of November 4th), transfixed by an arrow emerging from the water, thus envisioning the rebirth of the town. It was hand-made by Silvio Vezzani in the 15th-century "Le Carte" Papermill, in Pescia, Tuscany.
- only copy on laid pure-cotton Sicilian paper (sold out)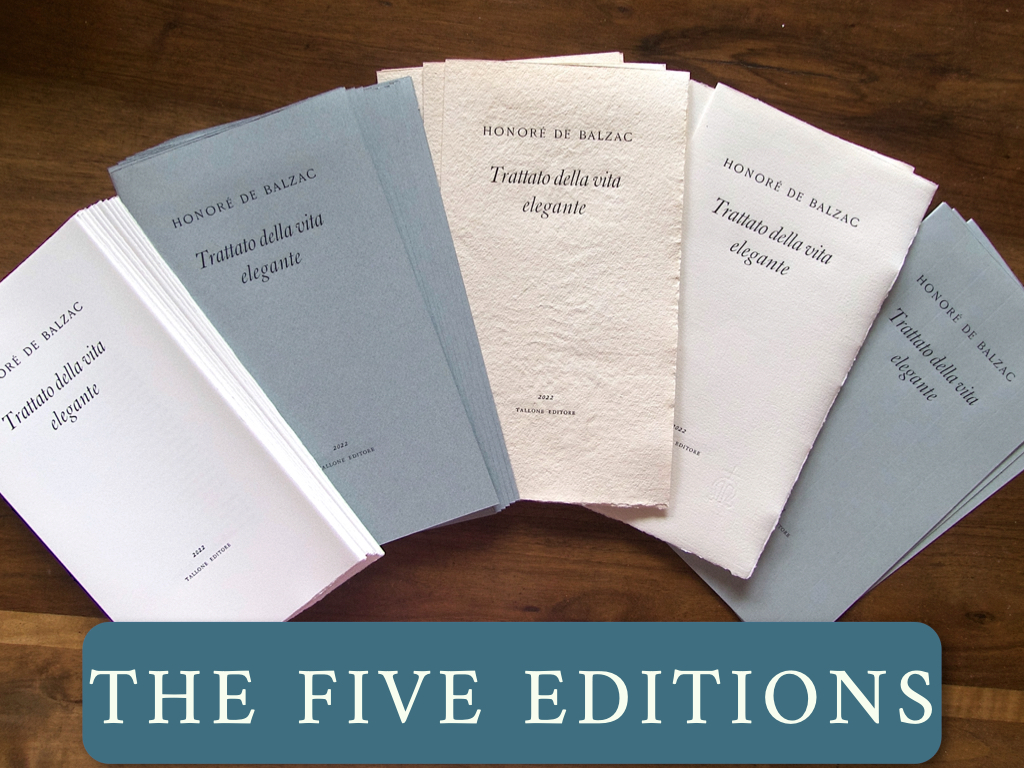 ***
Book format: 8vo (31x28cm). Volume of 100 pages typeset by hand in 14-point Garamond type, hand-cut by Henri Parmentier in Paris in 1914 and cast by the Fonderie Deberny.
The preface was typeset by hand in 12-point Tallone type, designed by Alberto Tallone and hand-cut on punches by Charles Malin in Paris (1949).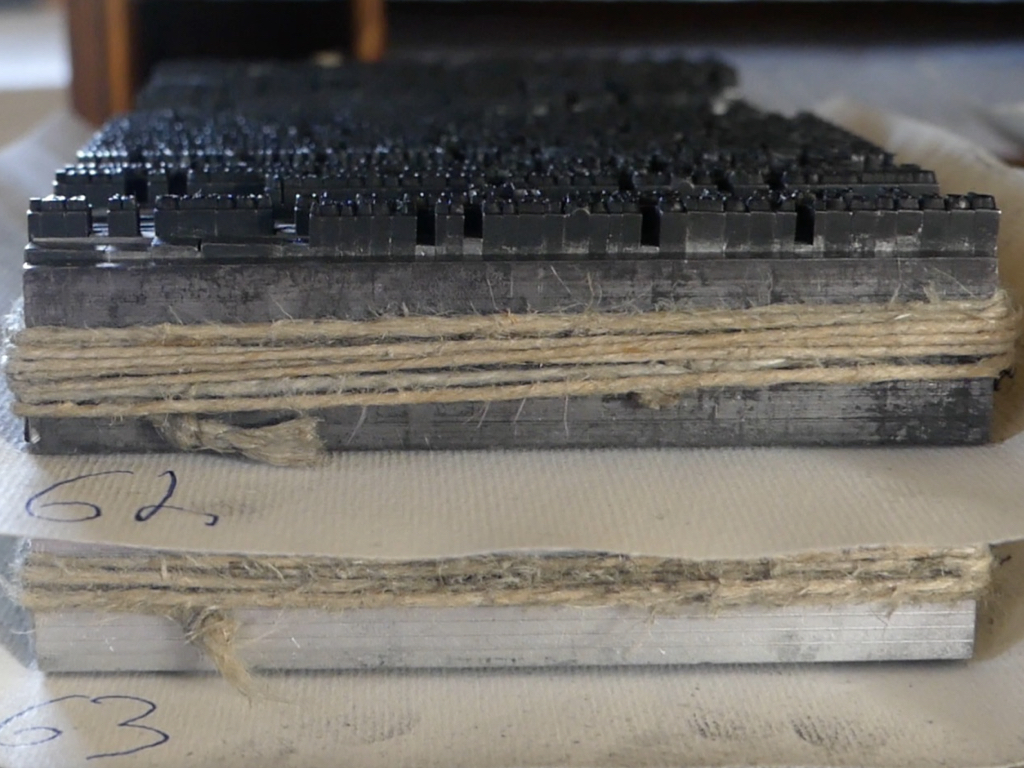 ***
"We don't know when women will understand that a defect can help greatly. Mademoiselle de Lavallière limped gracefully, and more than one woman can take revenge thanks to the attractions of the spirit, or the amazing riches of a passionate heart. '
"A banker who turns forty either without having declared bankruptcy, or with a wrist size over 36 inches is banished from the elegant society".
***
The volume is housed in a hand-made slipcase and box, custom made to an exact size, whose exteriors are covered with Ingres paper. The book title is letterpress-printed on the slipcase's spine.
***
The number of movable types handled for the typesetting of this book, makes it an exceptional endeavor in contemporary fine printing.
Printed on very fine paper and sewn by hand, this collector's edition is handmade in the most ancient typographic studio in the world still in activity, where handmade bookmaking and modern aesthetic combine to give the best possible reading experience.
Tallone book is a sophisticated, valuable gift meant to last over time.
Neither monotype nor linotype are used. These typesetting systems from a keyboard are often passed off as manual typography. The Tallone Press also does not print from plastic plates derived from digital compositions.