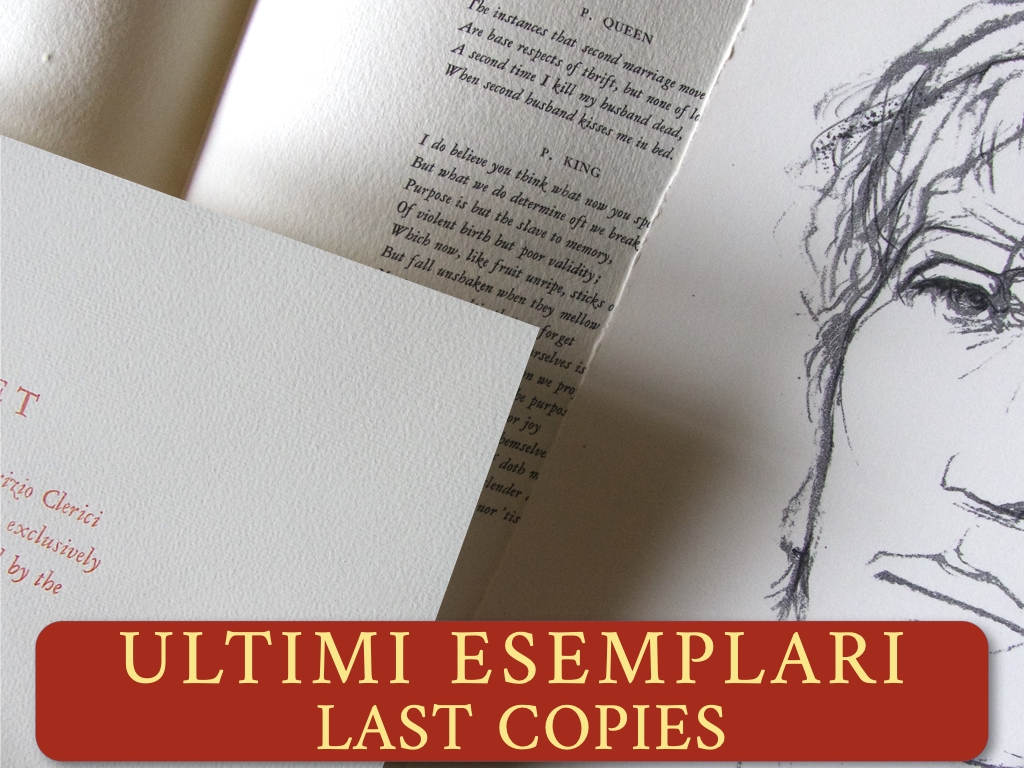  
hamlet - shakespeare
(publication year: 1978)
This copy comes from the collection of the printer.
English edition. 
Limited edition of 80 copies typeset by hand in movable types, which include a lithograph print by Fabrizio Clerici, loose in separate folder, signed and numbered. 
One of the best plays of all time, and among the most represented ones.
Complimentary gift wrapping and personalized message for the receiver available at checkout*
(*) no additional charge will be applied
Shipping costs calculated at checkout
BOOK CONDITIONS: fine. The book comes with its original chemise and slipcase.
One of 80 copies letterpress printed on paper handmade by Amatruda of Amalfi.
***
PLOT:
Tragedy in five acts. Hamlet, prince of Denmark, is mourning his father, who has been killed, and lamenting the behavior of his mother, Gertrude, who married his uncle Claudius within a month of his father's death. The ghost of his father appears to Hamlet, informs him that he was poisoned by Claudius, and commands Hamlet to avenge his death […]
***
Quarto (22x35cm). Volume of 224 pages entirely typeset by hand in the exclusive 12 point Tallone® type, designed by Alberto Tallone, handcut on punches by Charles Malin in Paris and cast by Radiguer Foundry.
The text of the tragedy was edited by Claudio Gorlier, whose afterword is set by hand is 10 point Garamond.
The composer was Enrico Tallone.
***
525 copies were printed, of which:
. 360 copies on Magnani cotton paper made in Pescia (sold out);
. 160 copies on Amatruda paper handmade in Amalfi (80 out of 160 include the lithograph print by F. Clerici);
. 5 copies on Hosho paper, handmade in Japan (sold out);
***
Numbered and limited edition typeset by hand in original foundry types and letterpress printed on very fine paper, made to last. Each copy is sewn by hand, and individually numbered.
Due to its unique features, this fine-press book is a coveted collector's edition and a sophisticated gift idea, entirely handset in movable types.
Neither monotype nor linotype are used. Tallone Press also do not print from plastic plates (photopolymer), which are derived from digital compositions. These typesetting systems from a keyboard are improperly passed off as manual typography.
Tallone timeless books are strictly handmade according to the highest tradition of manual typography, fine printing and handmade bookmaking, and are meant to last. 
The number of movable types handled for the typesetting of this book, make it an exceptional endeavor in the contemporary printing scene.
Tallone collectible books are a symbol of made in Italy: they are the only ones in the world typeset by hand and totally handmade in the most ancient typographic studio in the world still in activity since the 18th century.
*** 
The volume is housed in a loose hardcover chemise and a slipcase, both handmade, whose exteriors are covered with Ingres paper. The book title is letterpress-printed on the chemise's spine.