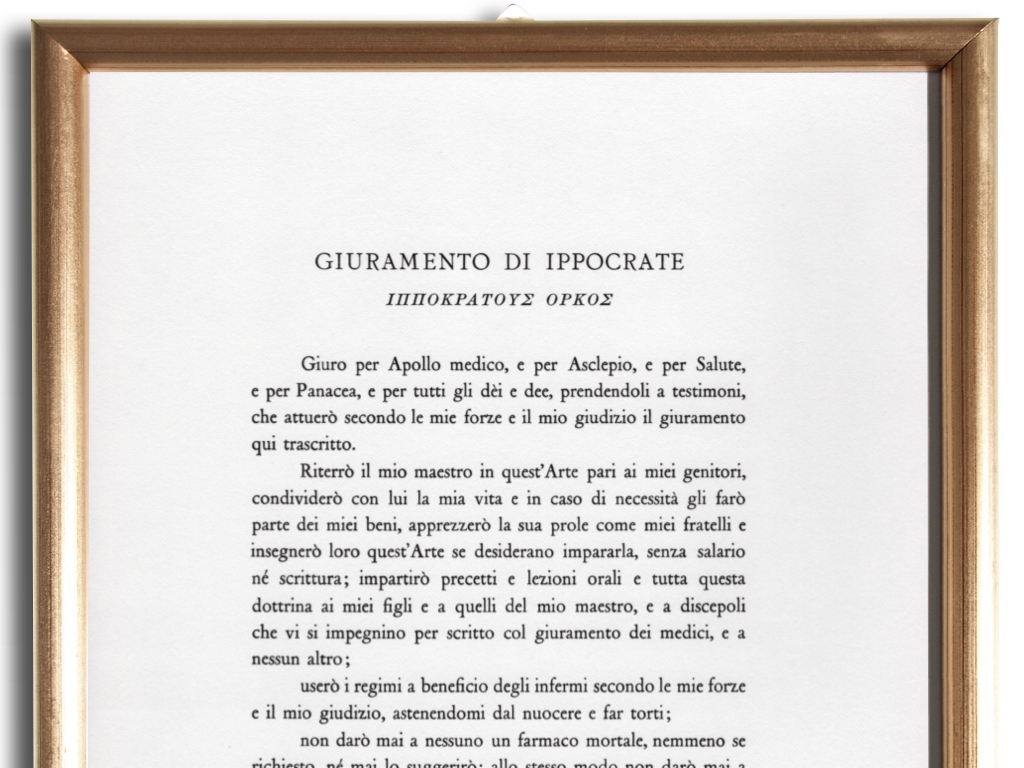  
Hippocratic Oath
The earliest and most relevant expression of medical ethics in the Western world.
The perfect gift for physicians, who, in these times of pandemic, are more than ever invested with high responsibility. 
Available in three versions: printed in Italian, both framed (€ 60) and unframed (€ 40).
Limited edition typeset by hand in movable types, letter by letter.
Complimentary gift wrapping and personalized message for the receiver available at checkout*
(*) no additional charge will be applied
Shipping costs calculated at checkout
Frame: 23x35 cm.
Letterpress printed on pure-cotton Magnani paper, handmade in Pescia (Tuscany).
The glass and wood frame has a hanging hook on top, ready for wall mounting.
The unframed version is also available (€ 40), housed into a resealable bag personalized with the Tallone logo. The bag includes a pH neutral passpartout cardboard.
***
In the oath, the physician pledges to prescribe only beneficial treatments, according to his abilities and judgment; to refrain from causing harm; and to live an exemplary peråsonal and professional life.
The first lines are an invocation to the healing gods, followed by the presentation of the principles.
***
Traditionally attributed to Greek physician Hippocrates (460–370 BC).
***
The Italian text is typeset by hand in 14-point Garamond types, which were hand-cut by Henri Parmentier in 1910s and cast by Deberny et Peignot in Paris.
The Greek text is typeset by hand in the rare Neo-classical 12-pt Greek Ancien type cut by hand in mid 19th-century and cast by Deberny & Tuleu.
***
Add a personalized message for the receiver of your gift. We will print it beautifully, for free, and ship the gift and the message directly to the receiver's address.
***
Tallone's typographic studio has been continuously in operation since the 18th  century, and its vast endowment of original foundry types and presses is still in use. 
Neither monotype nor linotype are used. These typesetting systems from a keyboard are often passed off as manual typography. The Tallone Press also does not print from plastic plates derived from digital compositions. At Tallone Press, handmade bookmaking and aesthetic research combine to give each book a unique design, which is never repeated.
Data sheet
Size (cm)

23x35