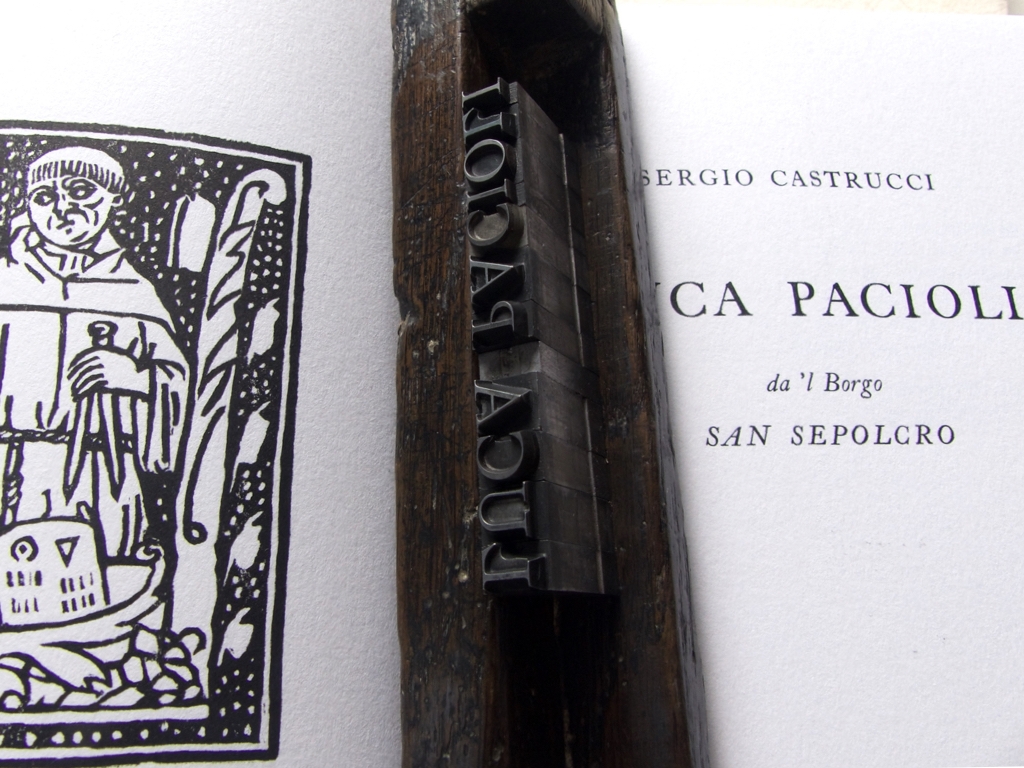  
luca pacioli
Limited edition of 265 copies typeset by hand in movable types, letter by letter, and letterpress-printed.
Biography. The adventurous life of Luca Pacioli, mathematician, economist, and Franciscan monk, the inventor of the double-entry accounting system, who befriended Leonardo da Vinci and designed the "dignissimus" alphabet.
It includes 3 woodcuts, cut by hand and made expressly for this edition.
Complimentary gift wrapping and personalized message for the receiver available at checkout*
(*) no additional charge will be applied
Shipping costs calculated at checkout
This is one of 265 numbered copies letterpress-printed on Magnani cotton paper made in Pescia, Tuscany;
Moreover, this book comes in the following editions (on the whole 370 copies were printed):
.9 on handmade Japan Gampi vellum;
.42 on pure-cotton Johannot paper, made in France;
.54 copies printed on paper excerpted from an ancient accounting notebook (images and prices on request).
Volume in 16mo format (cm 15x23x3) of 112 pages entirely typeset by hand in original Caslon types, derived from the original punches hand-cut by William Caslon in London in the 18th century.
The book includes 3 woodcuts by Adriano Porazzi and Gianfranco Schialvino, made expressly for this edition.
Introduction by Franco Cardini. 
This book won the Capalbio Prize 2003.
Edition in paper wrappers with hardcover chemise and slipcase 

covered with Ingres paper. The book title is letterpress-printed on the slipcase's spine.
***
The number of movable types handled for the typesetting of this book, make it an exceptional endeavor in the contemporary printing scene. 
Printed on very fine paper and sewn by hand, this edition is handmade in the most ancient typographic studio in the world still in activity, where tradition and modern aesthetic combine to give the best possible reading experience.
Neither monotype nor linotype are used. Tallone Press also do not print from plastic plates (photopolymer), which are derived from digital compositions. These typesetting systems from a keyboard are improperly passed off as manual typography.
***
Add a personalized message for the receiver of your gift. We will print it beautifully, for free, and ship the gift and the message directly to the receiver's address.
Data sheet
Size (cm)

15x23x3