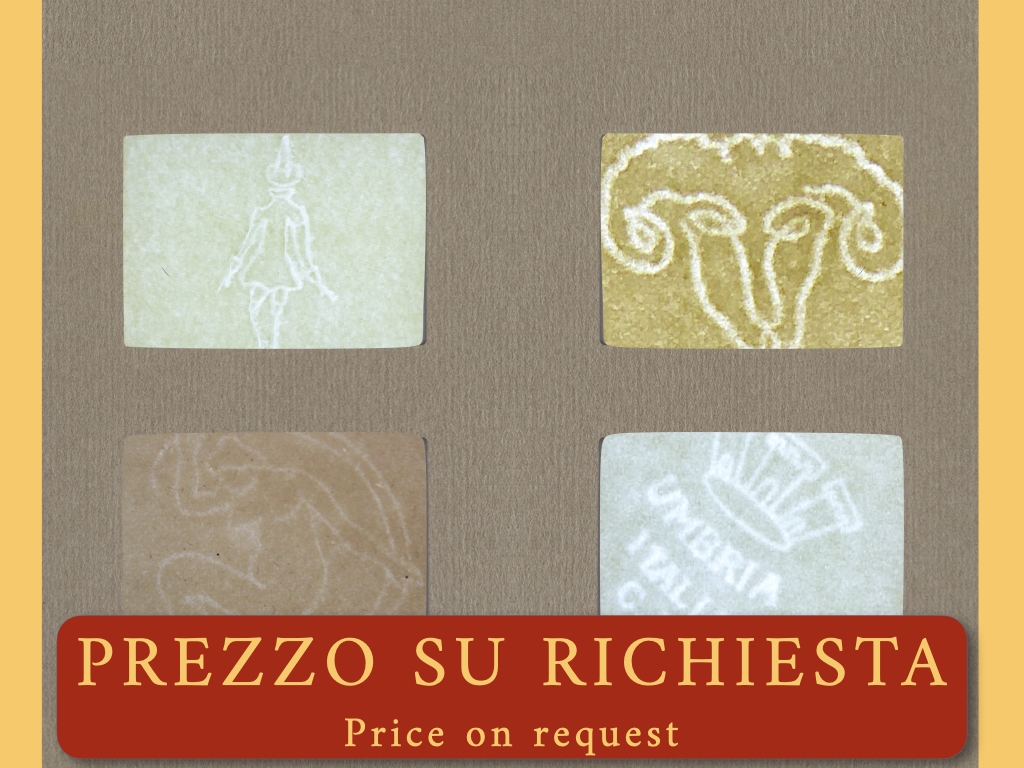  
Manuale Tipografico III - Enrico Tallone et al.
– PRICE ON REQUEST – STILL AVAILABLE BY CONTACTING THE PRINTER –  

Limited edition of 358 copies typeset by hand in movable types, numbered and letterpress printed.
Dedicated to the aesthetic of papers, watermarks and inks.
It includes more than a hundred original samples of ancient papers (starting from the 15-16th century), as well as original samples of the finest 20th-century typographic inks and papers (among which those used in the 1930s-1950s by Mondrian, Léger, Picasso, Chagall, De Chirico, Aristide Maillol and the greatest artists based in Paris).
Complimentary gift wrapping and personalized message for the receiver available at checkout*
(*) no additional charge will be applied
Shipping costs calculated at checkout
«The collection of Manuali Tipografici printed by the Tallone Press is the most important historical-typographic endeavor since the second half of the twentieth century, the first in the world for quality, breadth, elegance and documentation» Michelle Delattes
This Manuale is part of a set in five volumes (Manuale I, Complemento, Manuale II, Manuale III, Manuale IV), each dealing with a different aspect of book aesthetic.
The samples of ancient papers (starting from the 15-16th century), watermarks and inks are inserted in custom made frames.
Quarto (cm 37x23). Volume of 128 text-pages entirely typeset by hand in 12 point Tallone types, designed by Alberto Tallone and cut by Charles Malin in Paris.
Captions and footnotes are typeset by hand in Garamond type, cast by Deberny & Peignot.
***
PRINT RUN
358 copies have been printed, of which:


. 300 copies on off-white mould-made paper made of pure cotton in Sicily, without optical brighteners, made expressly for this edition, which contain a hundred and ten original specimens of papers, watermarks and inks.
. 38 copies on pure-cotton cream-color Magnani paper;
. 12 copies on Umbria paper handmade in Fabriano;
. 8 copies on ancient tinted-colored Fabriano paper.
***
Listed as follows are the samples of papers, watermarks and inks included in every copy of the book (deluxe copies contain an higher number of original papers and watermarks, which date back to the 15th century):
– original samples of ancient European papers, representative of each century from the 16th to the 19th (deluxe copies include also a 15th-century sample), followed by 20th-century papers representative of each decade, from the 1930s to nowadays;
– some of the most prestigious European papers for deluxe editions made from the 1930s onwards;
– original watermarks of the most prestigious 20th-century European papers. The samples come from seven different decades, beginning from the 1930s, and are put in chronological order. The first watermark (1930s) is that of the Montval Mill, designed by Aristide Maillol for Count Kessler; it is followed by Italian (i.e. Fabriano, Amalfi and Pescia), English (Whatman), Dutch (i.e. Van Gelder Zonen and Pannekoek Mills), and French watermarks (i.e. Arches, Rives, Lana and Johannot Mills). Deluxe copies include original watermarks from the 18th and 19th century;
– as far as ancient watermarks are concerned, papermaker Luigi Mecella of the Paper Museum in Fabriano has expressely made by hand a sheet of pure-cotton paper which bears 14 of the very first Fabrianese watermarks of the 14th and 15th centuries;
– 19th and 20th-century Chinese and Japanese papers, such as Chine ancienne, Japon imperial and Hosho (their number grows within the deluxe copies);
– 72 original 20th-century typographic inks (black, blue and red inks), representative of each decade, from the 1930s to nowadays, printed on paper and inserted in custom made frames, starting from Noir Vignette TPH Intense and Nero Opere made in Milan by Renzo Cova, both of the 1930s, followed by other Italian and European ones up to nowadays, such as the German ones made by Huber, Kast & Ehinger, Gleitsmann and Jänecke & Schneemann. The first 24 black inks are printed on papers made in the same decade of each ink, as specified in the captions. Moreover, black inks for lithography, xilography, etching, opaque and glossy offset printing and phototypography are also included.
***
Such a unique collection of precious specimens of papers, watermarks and inks has been possible due to the centuries-old history of our Printing house, whose origins date back to the late 18th century, making it the most well equipped and most ancient typographic studio in activity today. 
This unique journey through the aesthetics of papers, watermarks and inks is intended for those who, like us, always pursue clarity and elegance in designing books devoted to literature and poetry.
***
The 14 inedited texts and the introduction are in Italian (one text only is in French):
Carlo Magnani, "Ricordanze di un cartaio"; Luigi Manias, "Il Tallone di carta"; Yves Bonnefoy, "Notre juge, notre complice"; Guido Ceronetti, "Alberi e carta"; Maria Gioia Tavoni, "Osservazioni sulla lapide bolognese del XIV secolo"; Angelo Tajani, "La filigrana, il primo marchio di fabbrica"; Franco Mariani, "La filigrana, silenziosa testimone del tempo"; Carlo Antinori, "Giambattista Bodoni e la carta"; Toshiharu Kano, "L'Oriente e la carta"; Oliviero Diliberto, "Il corpo dei libri"; Luigi Manias, "Il libro ecologico", Andrea Kerbaker, "La legge di Murphy"; Mauro Chiabrando, "Nel nome della tinta"; Enrico Tallone, "I profumi del divino liquore".
***
Numbered and limited edition typeset by hand in original foundry types and letterpress printed on very fine paper, made to last. Each copy is sewn by hand, and individually numbered.
Due to its unique features, this fine-press book is a coveted collector's edition and a sophisticated gift idea, entirely handset in movable types.
Neither monotype nor linotype are used. Tallone Press also do not print from plastic plates (photopolymer), which are derived from digital compositions. These typesetting systems from a keyboard are improperly passed off as manual typography.
Tallone timeless books are strictly handmade according to the highest tradition of manual typography, fine printing and handmade bookmaking, and are meant to last. 
The number of movable types handled for the typesetting of this book, make it an exceptional endeavor in the contemporary printing scene.
Tallone collectible books are a symbol of made in Italy: they are the only ones in the world typeset by hand and totally handmade in the most ancient typographic studio in the world still in activity since the 18th century.
***
The volume is housed in a hand-made hardcover chemise and slipcase, whose exteriors are covered with Ingres paper. The book title is letterpress-printed on the slipcase's spine.