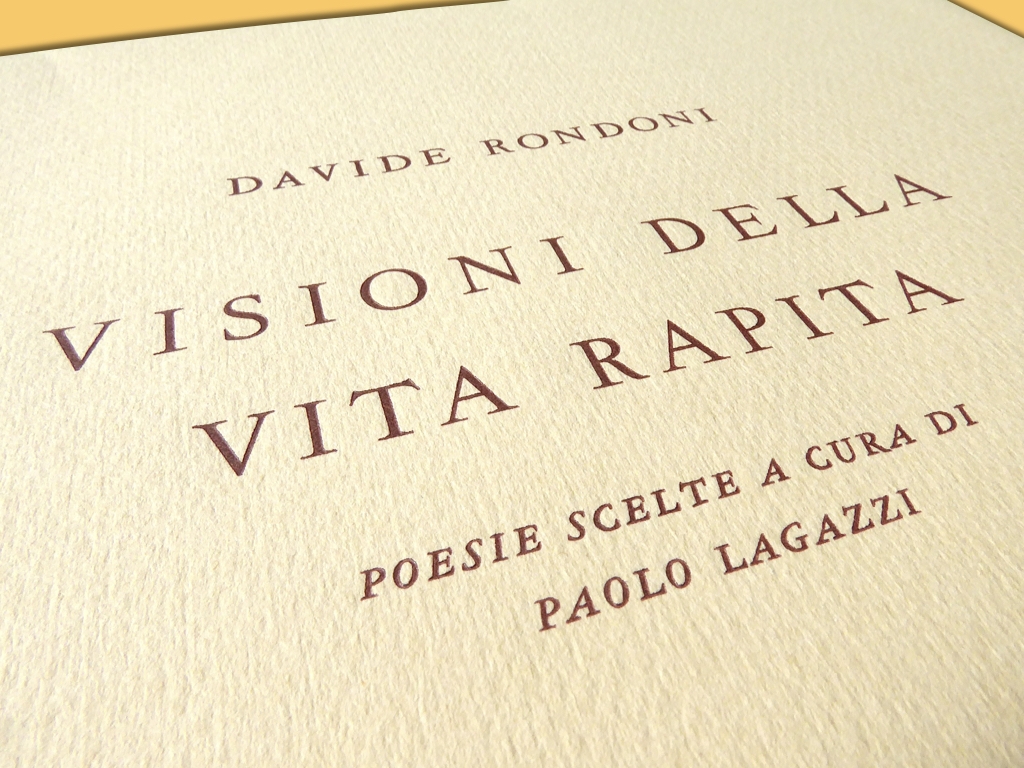  
Visioni della vita rapita – Davide Rondoni
Limited edition of 120 copies typeset by hand in movable types, letter by letter, and letterpress-printed.
First Italian anthology of Davide Rondoni's poetry. It includes 50 poems, out of which 16 are unedited.
Complimentary gift wrapping and personalized message for the receiver available at checkout*
(*) no additional charge will be applied
Shipping costs calculated at checkout
Edited and prefaced by Paolo Lagazzi.
Davide Rondoni (born in Forlì, 1964) has published several volumes of poetry and his work has been translated in several languages.
***
Volume in 8vo format (cm 18x28,5) of 124 pages entirely typeset by hand in Tallone® and Garamond types.
More precisely, the introductory study by Paolo Lagazzi has been set by hand in 10-point Garamond, cut on steel punches by Henri Parmentier in 1914 and cast by Deberny; while, the 50 poems by Davide Rondoni has been typeset in 12-point Italic Tallone type, designed by Alberto Tallone, cut by Charles Malin in Paris and cast by Radiguer.
***
Limited and numbered print-run of 120 copies on off-white laid Magnani paper, made of pure cotton in Pescia, Tuscany.
The volume is housed in a hand-made slipcase and box, custom made to an exact size, whose exteriors are covered with Ingres paper. The book title is letterpress-printed on the slipcase's spine.
***
The number of movable types handled for the typesetting of this book, make it an exceptional endeavor in the contemporary printing scene. 
Printed on very fine paper and sewn by hand, this edition is handmade in the most ancient typographic studio in the world still in activity, where tradition and modern aesthetic combine to give the best possible reading experience.
Neither monotype nor linotype are used. Tallone Press also do not print from plastic plates (photopolymer), which are derived from digital compositions. These typesetting systems from a keyboard are improperly passed off as manual typography.
***
This is an ordinary copy. 
Moreover, for a total of 138 copies, this book comes in the following special editions:
- 8 copies printed on Amatruda paper, mould-made in Amalfi (images and prices on request);
- 4 copies printed on 'Crown' hand-made white paper, made at the beginning of the 20th century by Enrico Magnani. The watermark of this paper represents his initial letters, E and M, and a crown (images and prices on request);
- 4 copies on cream-color Fabriano paper, made by the Fabriano Paper Museum (images and prices on request);
- 2 copies on special paper hand-made by Silvio Vezzani in 1966, after the flood of the Arno river. This paper was destined to the restoration of the ancient books Of the National Library in Florence which were damaged by the mud;
***
il mare non muore no
il mare
non muore sugli scogli

anche se precipita
sulla durezza dei confini
sulla pietra che morde
e graffia,
il mare
si porta via le ferite
così lontano e a fondo
che nessuno le può vedere.
In corpo abbiamo sale
nella sua medesima percentuale –
non vedi per strada i naufragi
gli abissi e, raro, nel chiaro
di uno sguardo le vele, le vele…
Il mare non muore, no
e solo alla luna, solo
alla luna
quando di notte
lei sospende il suo giro per chissà
lui amante con la tempesta nello sguardo grigio
mostra i segni celati sui fondali
l'illusione subacquea del moto dei coralli,
veli di antichi rapimenti, metalli
di navigazioni finite male, sacchetti, fibbie,
accendini, amuleti buttati tra le scie
con il cuore tra i denti.
Le poesie sono questi graffi, incidenti
custoditi nel mare, abbandoni
in un dolore felice, abissale.
Il mare non muore, no
riceve la vita di tutti, ne fa relitti, plancton, silenzi
li volge nei suoi flutti – e a volte, a volte di notte
grande creatura di sale e di luce
lui si sente gridare…
***
La bellezza interamente ferisce
attrae la vita da dove si era nascosta
la raccoglie come acqua nel palmo
delle sue mani di fuoco
mi vedono di spalle uscire nel buio del giardino
pensano deve fumare
e invece devo piangere, piangere
finalmente da morire
contro il petto della notte
mia vastissima madre…
Se non ti avessi incontrato
non sarei arrivato qui così
Roma davanti agli occhi lucente in rovine
le stelle a miriadi sulla testa
nel cuore il tuo nome al centro
di una smisurata, di una
immeritata festa
**