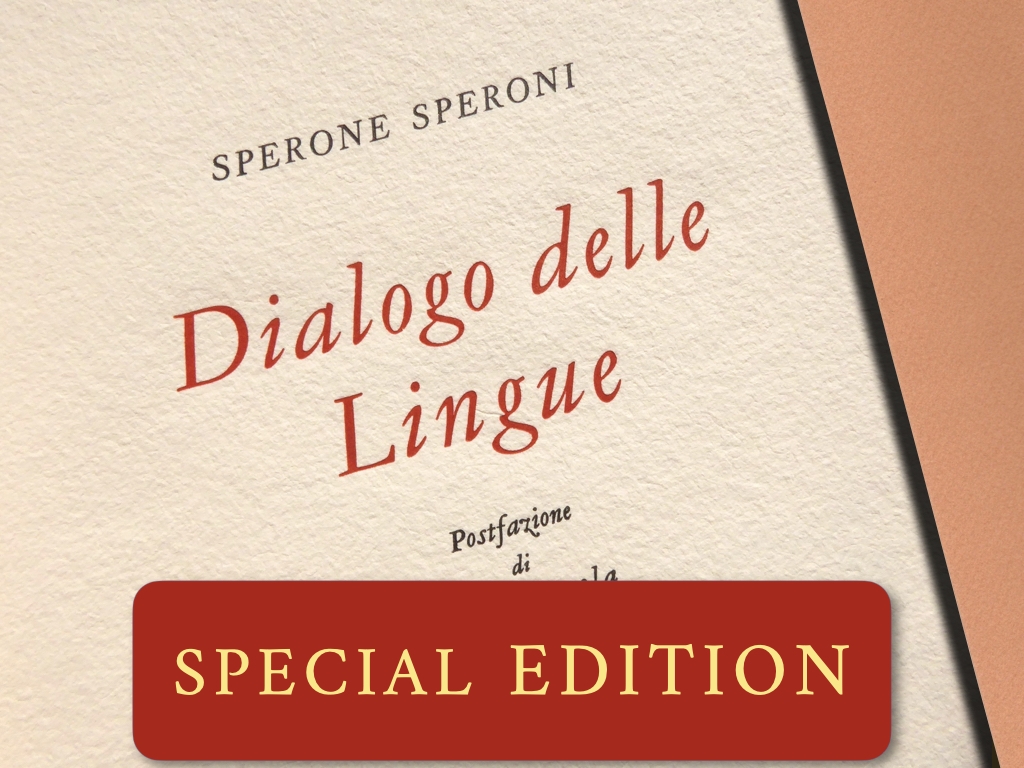  
Dialogo delle Lingue - Sperone Speroni
Limited edition of 9 copies typeset by hand in movable types, letter by letter, and letterpress-printed.
A debate between advocates of the ongoing superiority of Latin and Greek, and proponents of vernacular, now fully affirmed, celebrates the beauty and the full dignity of the Italian language.
Complimentary gift wrapping and personalized message for the receiver available at checkout*
(*) no additional charge will be applied
Shipping costs calculated at checkout
Limited and numbered print-run of 9 special copies printed on pure cotton Alcantara paper handmade in Sicily. The other editions are listed below.
Postface by Carlo Ossola.
    Dedicated to the beauty and affirmation of the Italian vernacular language, this work, written by the famous Paduan philosopher and orator Sperone Speroni (Padua, 1500 - 1588), influenced the subsequent linguistic discussion more than any other. Sperone Speroni's Dialogue, which appeared in 1542, had an immediate success that crossed the borders of the Italian language. Notably, Joachim du Bellay's "Deffence, et illustration de la langue françoyse" (1549) includes numerous passages taken from Speroni's Dialogue (Du Bellay addresses to French the arguments that Speroni used in defense of Italian).
    A volume in 8vo format (16x25 cm) of 100 pages typeset by hand in italic 12pt Tallone – hand-cut on punches by Charles Malin in Paris – and roman 10pt Garamond – hand-cut on punches by Henri Parmentier in Paris.
    The pages of "Dialogo delle Lingue" flow one into the next without paragraphs and interruptions of any kind, so as to visually convey the liveliness of the dialogue between the  six characters; and are typeset by hand in italic Tallone type, which embodies the harmonious fluidity of the Italian language.
***
The number of movable types handled for the typesetting of this book, make it an exceptional endeavor in the contemporary printing scene. 
Printed on very fine paper and sewn by hand, this edition is handmade in the most ancient typographic studio in the world still in activity, where tradition and modern aesthetic combine to give the best possible reading experience.
Neither monotype nor linotype are used. Tallone Press also do not print from plastic plates (photopolymer), which are derived from digital compositions. These typesetting systems from a keyboard are improperly passed off as manual typography.
 ***
For a total of 144 copies, this book comes in the following editions:

- 118 copies on pure-cotton Magnani laid paper, made in Tuscany. 
- 16 copies on pure cotton ivory laid Magnani vat paper (images and prices on request);
-  9 copies on pure cotton Alcantara paper handmade in Sicily (images and prices on request);
- only copy on pure-cotton laid Roma paper, handmade in Fabriano (no more available).
The volume is housed in a hand-made slipcase and box, custom made to an exact size, whose exteriors are covered with Ingres paper. The book title is letterpress-printed on the slipcase's spine.
Data sheet
Size (cm)

16x25

Typefaces

Typeset by hand in italic 12pt Tallone – hand-cut on punches by Charles Malin in Paris – and roman 10pt Garamond – hand-cut on punches by Henri Parmentier in Paris.

Paper

on pure cotton Alcantara paper handmade in Sicily.

Number of pages

100

Total print run

9

Weight (kg)

0,7