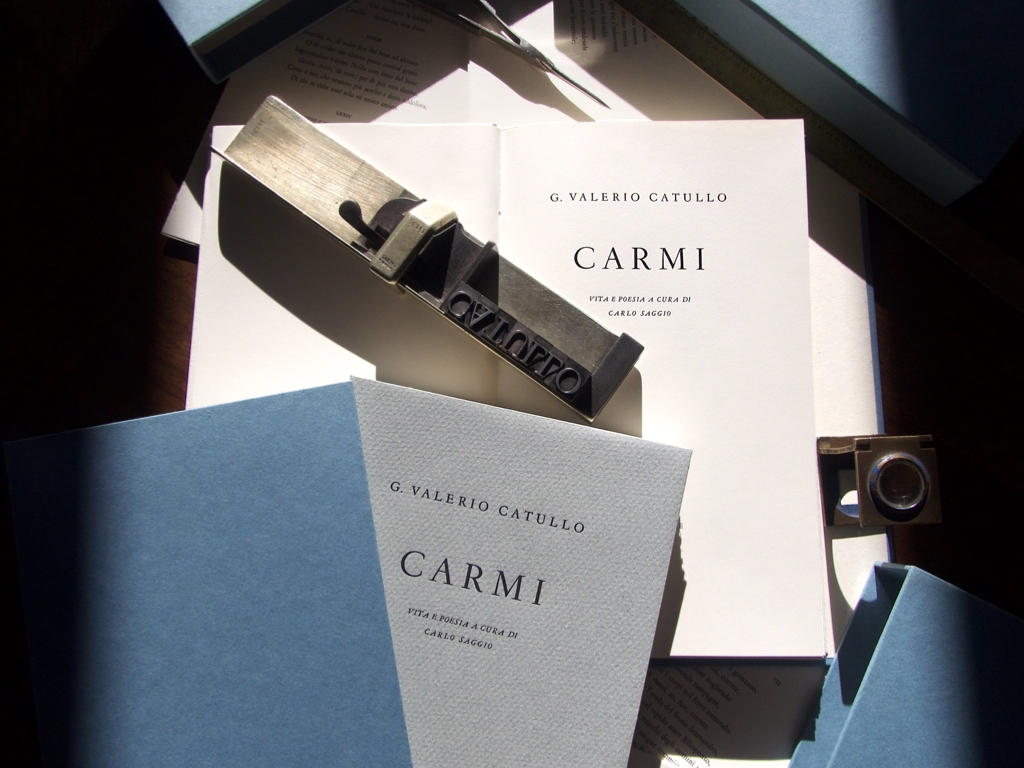  
carmi - catullo
Limited edition of 470 copies typeset by hand in movable types, letter by letter, and letterpress-printed.
«Artists like Catullus, Raphael, and Mozart have been assigned by gods the privilege of tracing unique paths, which have the fleeting and eternal traits of the perfect moment. It is no coincidence that the blaze of this miracle consumes the life of the chosen one in a short time» Carlo Saggio
Complimentary gift wrapping and personalized message for the receiver available at checkout*
(*) no additional charge will be applied
Shipping costs calculated at checkout
One of 470 copies letterpress-printed on Magnani paper made in Pescia (Lucca).
Moreover 16 copies were printed on Misumi paper, handmade in Japan.
***
A volume in the 16mo format (cm 22x13) di 150 pages entirely typeset by hand in 10-point Garamond type, hand-cut on punches by Henri Parmentier, and cast by Deberny in 1914.
***
Italian edition (translation from latin by Carlo Saggio).
«Few poets like Catullus - before him Sappho, and some others later - possess the aptitude for lighting the world in their verses, whatever the subject, even the most common one (the torments of love for Lesbia, the return to Sirmione, but also the outburst against a vulgar individual or the note in verse for an invitation to lunch)» Dario Del Corno. 
Introduction by Carlo Saggio. Final note by Dario Del Corno.
The volume is housed in a hand-made slipcase and box, custom made to an exact size, whose exteriors are covered with Ingres paper. The book title is letterpress-printed on the slipcase's spine.
***
The number of movable types handled for the typesetting of this book, makes it an exceptional endeavor in contemporary fine printing.
Printed on very fine paper and sewn by hand, this collector's edition is handmade in the most ancient typographic studio in the world still in activity, where handmade bookmaking and modern aesthetic combine to give the best possible reading experience.
Tallone book is a sophisticated, valuable gift meant to last over time.
Neither monotype nor linotype are used. These typesetting systems from a keyboard are often passed off as manual typography. The Tallone Press also does not print from plastic plates derived from digital compositions.
Data sheet
Size (cm)

22 x 13