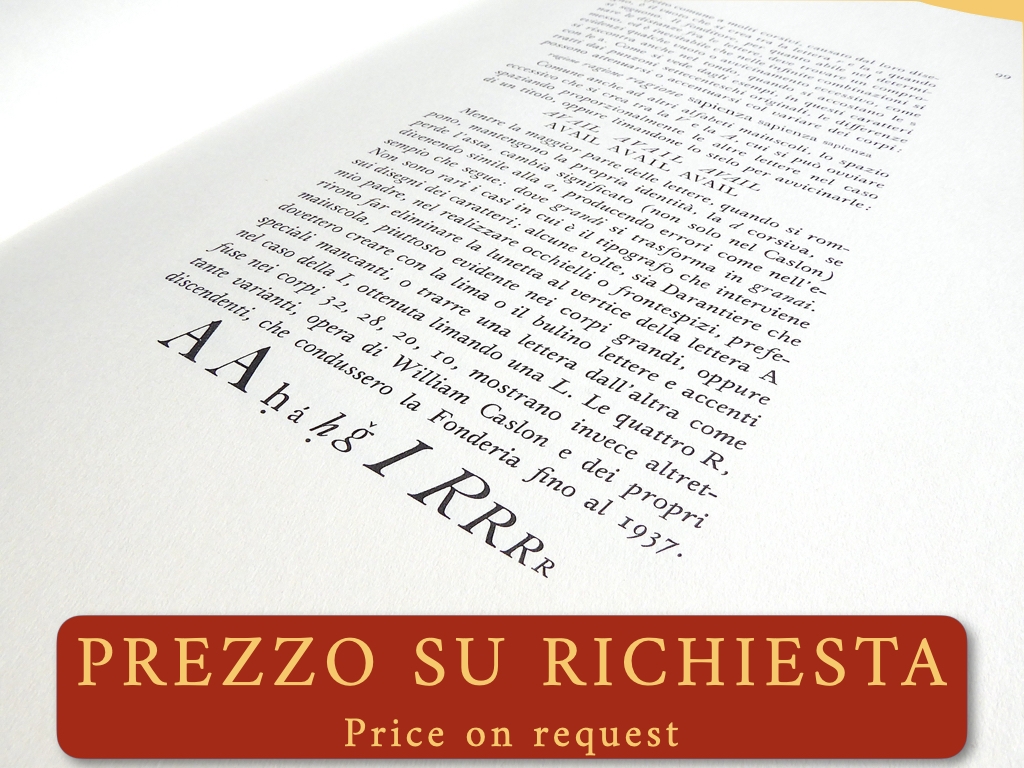  
Manuale Tipografico II - Enrico Tallone et al.
– PRICE ON REQUEST – STILL AVAILABLE BY CONTACTING THE PRINTER –  

Limited edition of 386 copies typeset by hand in movable types, letter by letter, and letterpress-printed.
Dedicated to the aesthetics of page layout, types and book formats.
It includes original Tallones' quartos from the 1930s onwards, together with lower-case alphabet tables of the original foundry types owned by the Tallones, each of them described by Enrico Tallone.
Complimentary gift wrapping and personalized message for the receiver available at checkout*
(*) no additional charge will be applied
Shipping costs calculated at checkout
386 copies have been printed on very fine Italian paper made of cotton.
The Manuale Tipografico II is a volume in the 4to format, of 212 pages entirely typeset by hand with the 12 point Tallone types, designed by Alberto Tallone and punch-cut by Charles Malin in Paris.
This edition includes:
- 14 essays by Lamberto Vitali, Marcel Beaudoire, Orio Vergani, Raffaele Carrieri, Jean Loize, John Dreyfus, Enrico Falqui, Giorgio Trentin, Umberto Favia, Emanuele Ferrari, Massimo Gatta, Francesco Saverio Dòdaro, Maurizio Nocera, Loris Jacopo Bononi;
- 15 original sheets and quartos extracted from Tallone books printed in France, from 1931 till 1959, and in Italy since then, which show different layouts and paginations;
- an aesthetic commentary of the foundry types which belonged to Maurice Darantiere, Alberto Tallone and the ones added afterwards, written by Enrico Tallone;
- the complete alphabets of each one of the above mentioned foundry types;
- 18 bibliographical records of the books printed by Alberto Tallone which have not been catalogued so far;
- a separate folder, inserted in the same slipcase and box as the book, contains 12 original quartos and octavos extracted from Tallone books printed in 7 different decades.
***
The volume is housed in a hand-made slipcase and box, custom made to an exact size, whose exteriors are covered with Ingres paper. The book title is letterpress-printed on the slipcase's spine.
***
Limited and numbered print run of 386 copies, of which:
260 copies on Magnani paper made in Tuscany; 

90 on Sicilian paper made of pure cotton; 

20 on hand- made ancient Fabriano tinted-colored paper; 

10 copies on white hand-made Umbria paper, made in Fabriano; 
6 copies on cream-colored hand-made Umbria paper, made in Fabriano. 
***
The number of movable types handled for the typesetting of this book, makes it an exceptional endeavor in contemporary fine printing.
Printed on very fine paper and sewn by hand, this collector's edition is a sophisticated gift meant to last over time and designed to give the best reading experience possible.
It is handmade in the most ancient typographic studio in the world still in activity, where handmade bookmaking and continue aesthetic research combine to give each book a unique design, never repeated in standard book series.
Neither monotype nor linotype are used. These typesetting systems from a keyboard are often passed off as manual typography. The Tallone Press also does not print from plastic plates derived from digital compositions.