 
the nocturnal train - pablo neruda
Limited edition of 48 copies typeset by hand in movable types, letter by letter.
Tri-lingual edition (Spanish, Italian, and English).
On the 13th December 1971 to Pablo Neruda was given the Nobel Prize of Literature.

Fifty years after the awarding (1971-2021), the choice to print "The Nocturnal Train" (from "Sumario. Libro donde nace la lluvia", Tallone Editore, 1963, first edition) is a way to pay homage to the Poet who, like his friend Alberto Tallone, was an enthusiastic lover of steam locomotives, an archetype of a liberated time, that of poetry and travel, as expression of knowledge and dynamism.
Complimentary gift wrapping and personalized message for the receiver available at checkout*
(*) no additional charge will be applied
Shipping costs calculated at checkout
This is one of 48 numbered copies letterpress-printed on pure-cotton cream-colored Magnani wove paper,  mould-made in Tuscany.
157 copies were printed, of which:
.69 on pure-cotton cream-colored Magnani wove paper, mould-made in Tuscany (sold out);
.48 on pure-cotton cream-colored Magnani laid paper, mould-made in Tuscany;
.12 on pure-cotton off-white BFK Rives paper, mould-made in France;
.8 on pure-cotton off-white Magnani paper, mould-made in Tuscany;
.20 on pure-cotton Magnani thick paper, mould-made in Tuscany.
***
Upon request and without additional charge, the book can be personalised with a printed inscription (i.e.: "Copy printed for John Doe").  
***
The oldest Italian steam locomotive has been located in the garden of Alberto Tallone's home since 1961 – admired by train-lovers, academics and poets for 50 years. 
The reference to the railways is reflected in the pagination of the poem itself, the lines of which run parallel like rails on the white expanse of the page.
The separate folder "El poeta y la locomotora" includes three photographs: Neruda on board the 829.001 (Alpignano, June 7, 1962 - photograph by Aldo Moisio); the 829.001 locomotive today (locomotive-cab and side view - photography by Giorgio Stella).
***

Limited edition typeset by hand in movable types, letter by letter, and letterpress-printed on artisanal high-quality paper. The number of copies is determined by the number of subscriptions collected by November 10, 2021.
Book format: album (21x28cm). Volume of 80 pages typeset by hand in 24 and 16-point Caslon type, derived from the original punches hand-cut by William Caslon in London in the 18th century.
Italian translation by Giuseppe Bellini. English translation by Cosimo Corsano.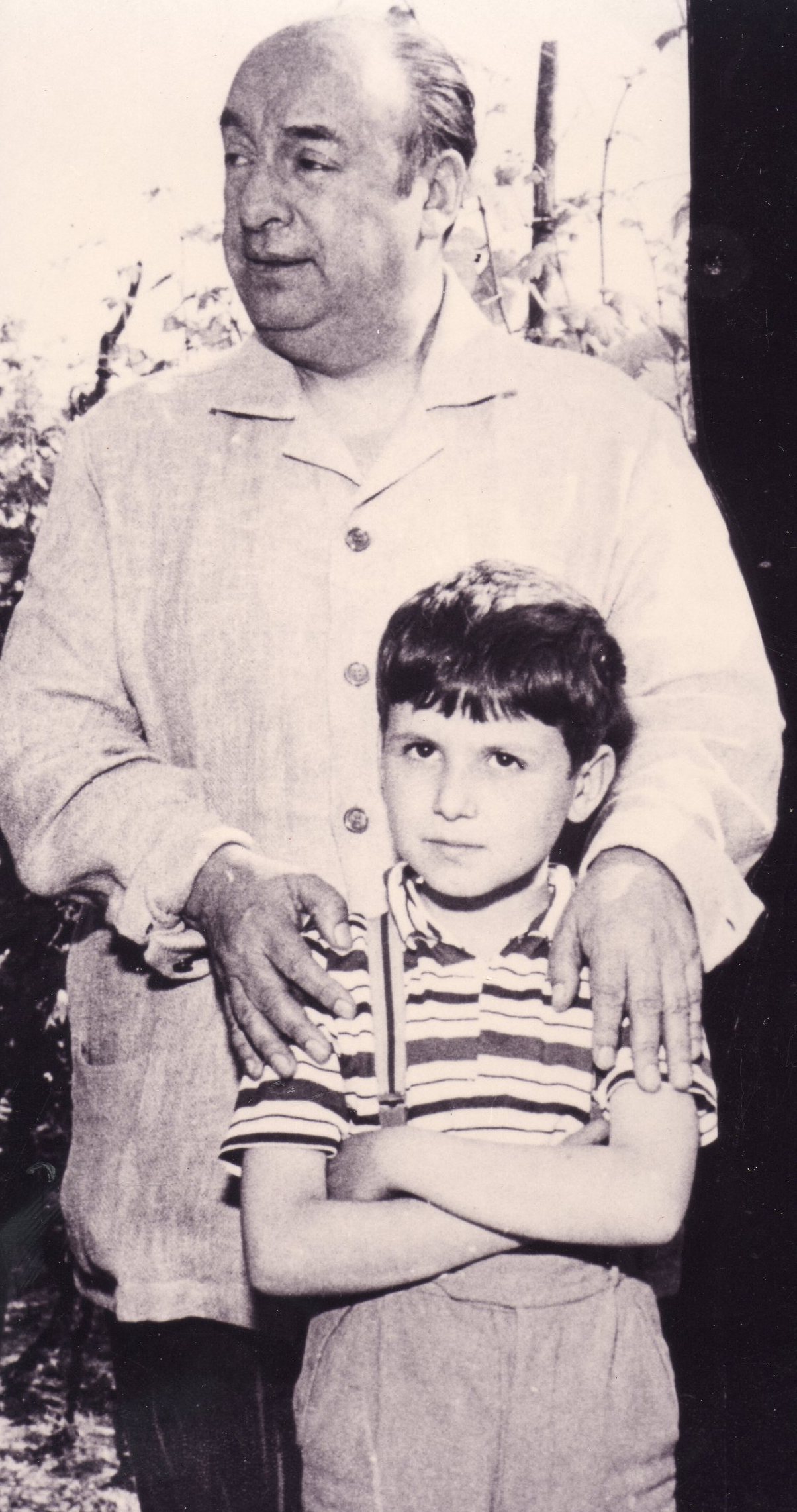 Pablo Neruda and Enrico Tallone (Alpignano, 1962).
***
Neruda appreciated Tallone's works from the 1940s, when both were in Paris. Son of a Chilean railway conductor, he was thrilled to find in the garden of his friend a steam locomotive that Alberto Tallone made smoke in his honor.
The first time Neruda sent him some collections of unpublished poems, he wrote: "What you don't like, throw it to the locomotive; its smoke will do justice". In the course of a decade, Tallone printed three unpublished works: Sumario - Libro donde nace la lluvia (1963); La Copa de Sangre (1969); Discurso Nobel (1972).
Emulating his Italian friend, Neruda also bought a steam engine that still today, painted in bright colors, stands out at the entrance to his "buen retiro" in Isla Negra.
***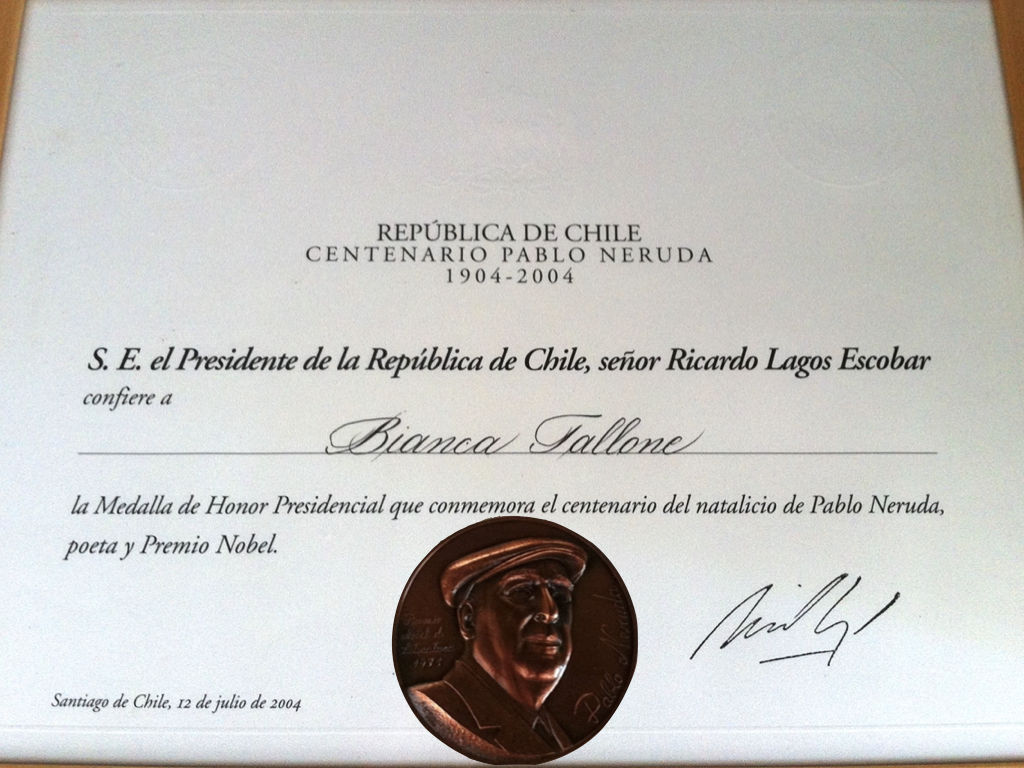 ***
The number of movable types handled for the typesetting of this book, makes it an exceptional endeavor in contemporary fine printing.
Printed on very fine paper and sewn by hand, this collector's edition is handmade in the most ancient typographic studio in the world still in activity, where handmade bookmaking and modern aesthetic combine to give the best possible reading experience.
Tallone book is a sophisticated, valuable gift meant to last over time.
Neither monotype nor linotype are used. These typesetting systems from a keyboard are often passed off as manual typography. The Tallone Press also does not print from plastic plates derived from digital compositions.
The volume is housed in a hand-made slipcase and box, custom made to an exact size, whose exteriors are covered with Ingres paper. The book title is letterpress-printed on the slipcase's spine.
Data sheet
Size (cm)

21x28cm