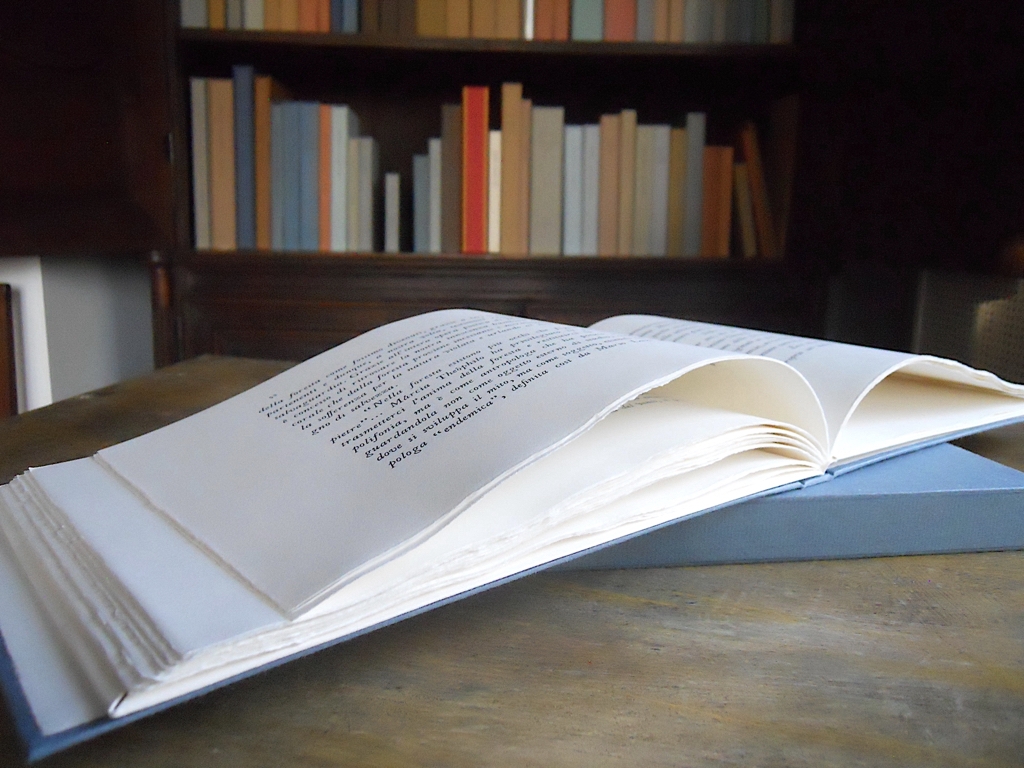  
BOTO, IL DELFINO ROSA - M. THEÓPHILO
AMAZONIAN TALE PRINTED IN FIRST EDITION
Last few copies available, on sale from the Publisher's collection on occasion of the Author's eightieth birthday.
One of the most beautiful Amazonian myths, embodied by a child whose innocence can save the fate of humanity. 
Limited edition of 170 copies typeset by hand in movable types, letter by letter, and letterpress-printed.
Complimentary gift wrapping and personalized message for the receiver available at checkout*
(*) no additional charge will be applied
Shipping costs calculated at checkout
This is one of 170 copies letterpress-printed on pure cotton in Sicily. No trees have been cut for the production of this paper. 
***
204 numbered copies of this edition were printed, of which:
. 170 copies on pure-cotton paper made in Sicily;
. 18 on handmade Magnani paper;
. 10 on tinted-color paper made in Fabriano;
. 6 on Hodomura paper handmade in Japan.
***
Márcia Theóphilo spent her infancy in the Amazon forest, living there with her grandmother.
Today an established poet and anthropologist, she is now a candidate for the Nobel Prize.
Italian edition.
***
A tale with a strong ecological message, handed down orally in the Tupí-Guaraní tribes of the Amazon forest.
Márcia Theóphilo brings us the essence of Indian culture, which is based on the respect for nature.
Afterword by Daniela Brunelli, principal of the Frinzi University Library, Verona. 
***
Volume in 8vo format, album (18x25 cm) of 72 pages typeset by hand in 16 point Caslon types, derived from the original 18th -century punches cut by William Caslon in London. 
***
The volume is housed in a hand-made slipcase and box, custom made to an exact size, whose exteriors are covered with Ingres paper. The book title is letterpress-printed on the slipcase's spine.
***
The number of movable types handled for the typesetting of this book, makes it an exceptional endeavor in contemporary fine printing.
Printed on very fine paper and sewn by hand, this collector's edition is a sophisticated gift meant to last over time and designed to give the best reading experience possible.
It is handmade in the most ancient typographic studio in the world still in activity, where handmade bookmaking and continue aesthetic research combine to give each book a unique design, never repeated in standard book series.
Neither monotype nor linotype are used. These typesetting systems from a keyboard are often passed off as manual typography. The Tallone Press also does not print from plastic plates derived from digital compositions.