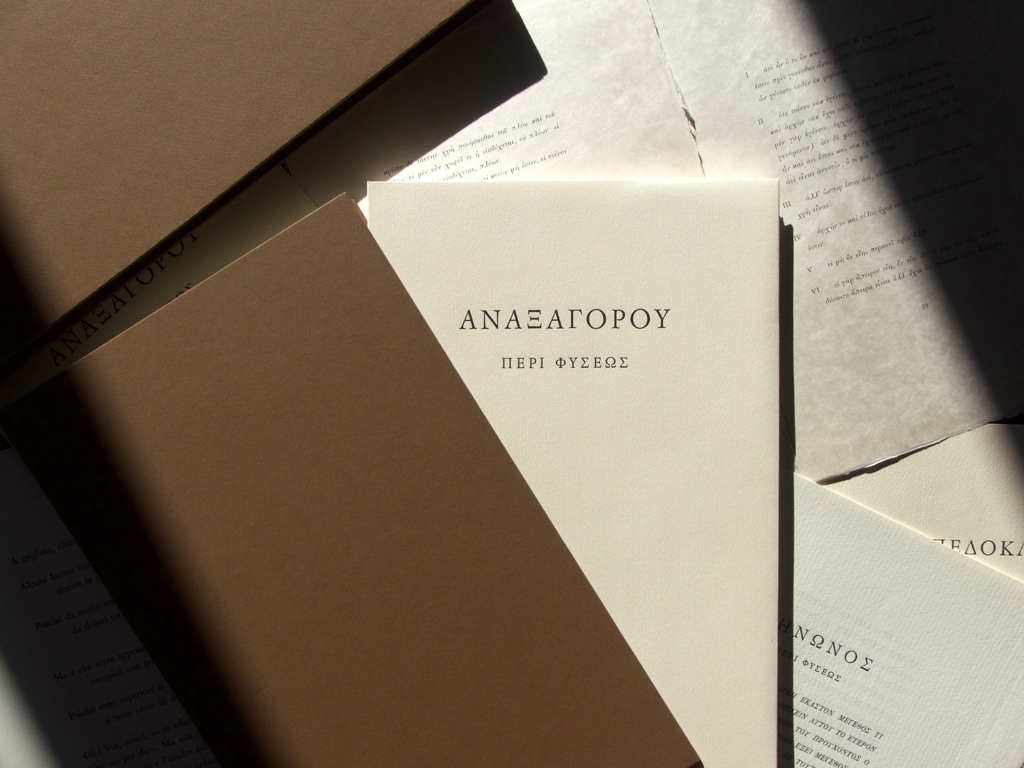  
ΠΕΡΙ ΦΥΣΗΩΣ - ΑΝΑΞΑΓΟΡΟΥ
Limited edition of 190 copies typeset by hand in original 19th-century types.
Ancient Greek and Italian edition.
«No printer is great if it does not print Greek. Without this effort it is impossible to serve Humanism. Because Humanism has two sources: Athens and Florence. Without these two corners of the world, it is not entirely certain that man would be able to get civilized, becoming a being able to oppose the immense power of individuality to mass action […]» Jean Zafiropulo.
Known for his materialistic theories, the scientist and philosopher Anaxagoras (499-428 a. D.) is convinced that the world consists of an infinity of infinitesimal units that form all things, and that the sun is a burning rock. He taught in Athens for thirty years.
Complimentary gift wrapping and personalized message for the receiver available at checkout*
(*) no additional charge will be applied
Shipping costs calculated at checkout
This is one of 190 numbered copies letterpress-printed on cotton Magnani paper made in Pescia (Tuscany). 
Moreover, the following special copies were printed:
.48 printed on cotton Amalfi paper
.10 printed on Gampi Vellum handmade in Japan.
***
A detail of the hand-typesetting: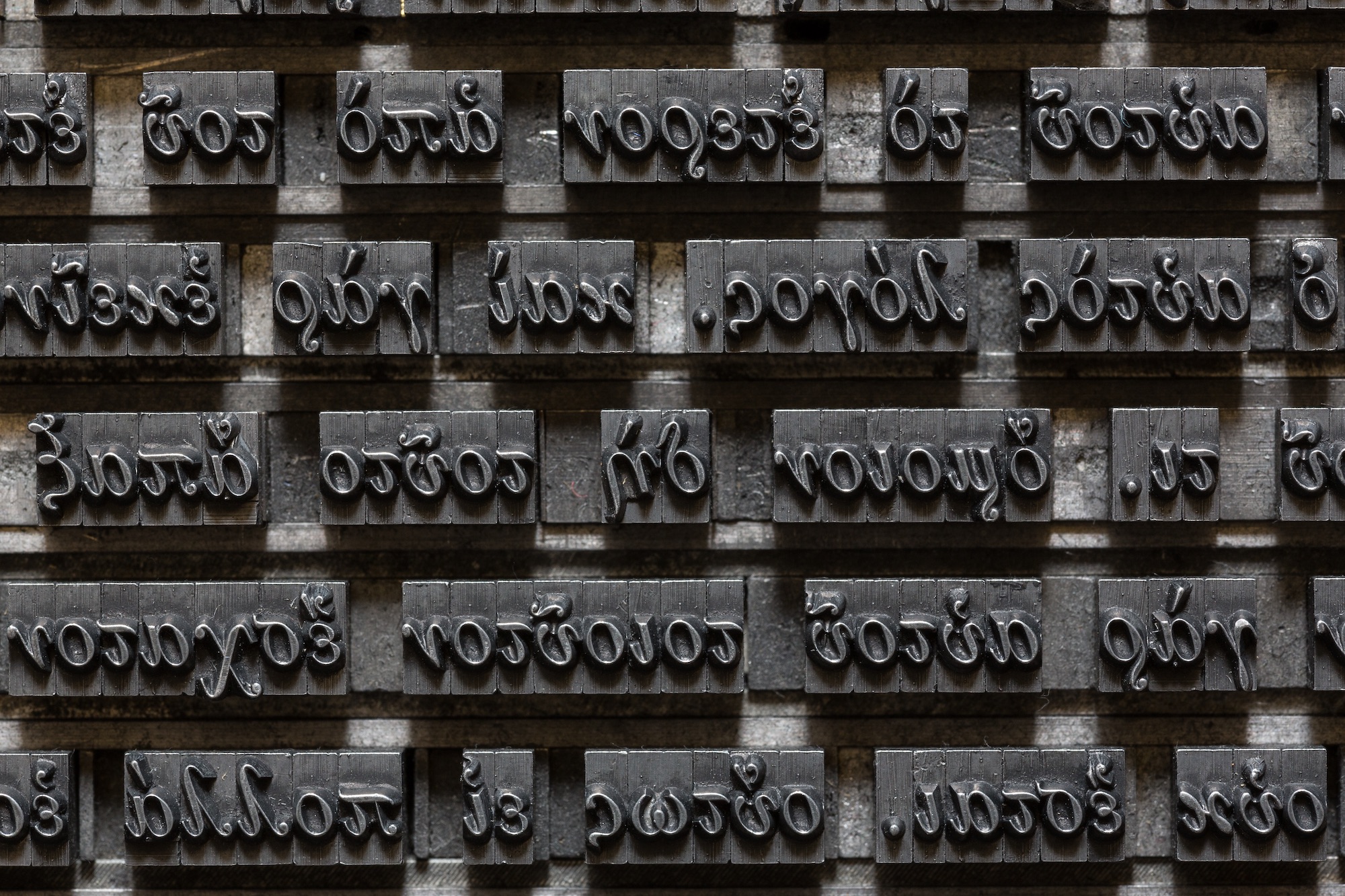 Born in Clazomenae, in the Gulf of Smyrna, Anaxagoras (499-428 BC) was an important Pre-Socratic scientist and philosopher, who lived and taught in Athens, helping to make the city an important center of philosophical thought. Master of Pericles and friend of Euripides, he gave the first exact solution to the problem of the description of the world, made of an infinity of infinitesimal units that form all things.
He built for Euripides the first tromp-l'oeil onstage scenery (which can be considered the forefather of the Olympic theater in Vicenza). Only some fragments of his work have survived.
A volume in the 4to format (22x35 cm) of 64 pages typeset by hand in  original 19th-century Greek type, cut on punches in 1831 by Firmin Didot (among the greatest punchcutters and printers of all time). In 1880-85, the Fonderie Generale cut and cast some additional sizes (8, 10 and 12 points). 
The notes and the Italian translation were typeset by hand in original Caslon type, cut on punches in 1720 by William Caslon. 
Text edited by Jean Zafiropulo.
This edition is part of the "Set of the Pre-Socratic Philosophers" in 8 volumes (Empedocles vol. I and II, Melissus, Parmenides, Zeno, Pythagoras, Diogenes, and Anaxagoras).
The volume is housed in a hand-made slipcase and box, custom made to an exact size, whose exteriors are covered with Ingres paper. The book title is letterpress-printed on the slipcase's spine.
***
The number of movable types handled for the typesetting of this book, makes it an exceptional endeavor in contemporary fine printing.
Printed on very fine paper and sewn by hand, this collector's edition is a sophisticated gift meant to last over time and designed to give the best reading experience possible.
It is handmade in the most ancient typographic studio in the world still in activity, where handmade bookmaking and continue aesthetic research combine to give each book a unique design, never repeated in standard book series.
Neither monotype nor linotype are used. These typesetting systems from a keyboard are often passed off as manual typography. The Tallone Press also does not print from plastic plates derived from digital compositions.