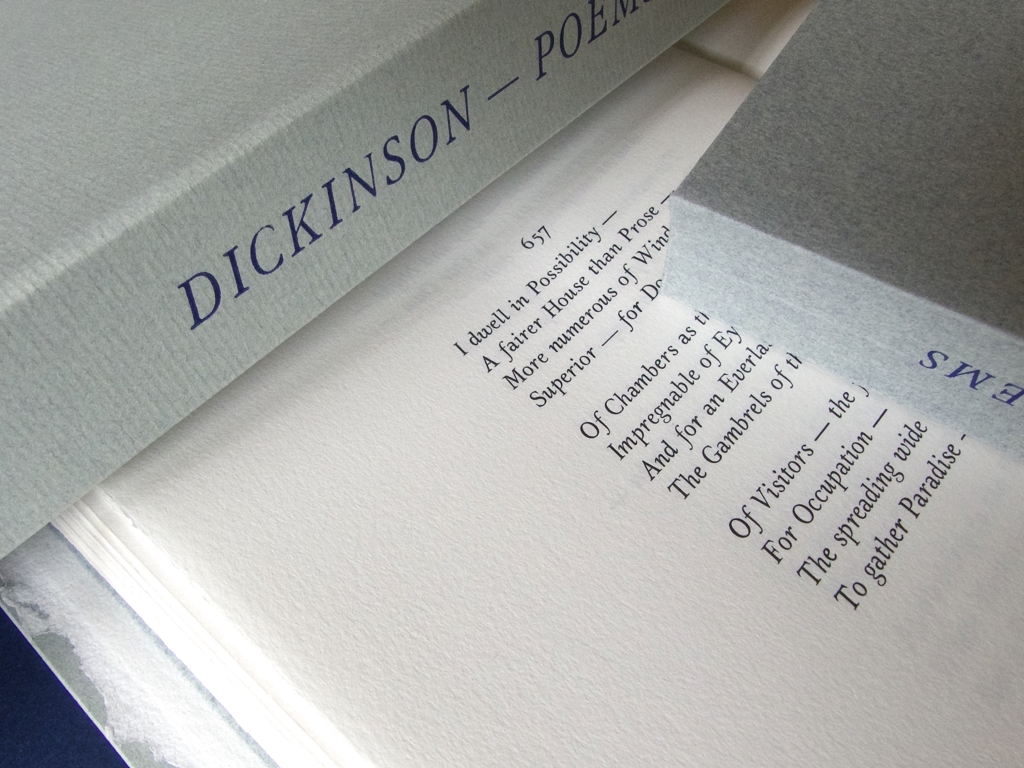  
Poems - Emily Dickinson
Limited edition of 258 copies typeset by hand, numbered and letterpress printed. English edition.
Collection of 130 poems by the ironic, solar New England poetess, one of the greatest poetical voices of all times.
Complimentary gift wrapping and personalized message for the receiver available at checkout*
(*) no additional charge will be applied
Shipping costs calculated at checkout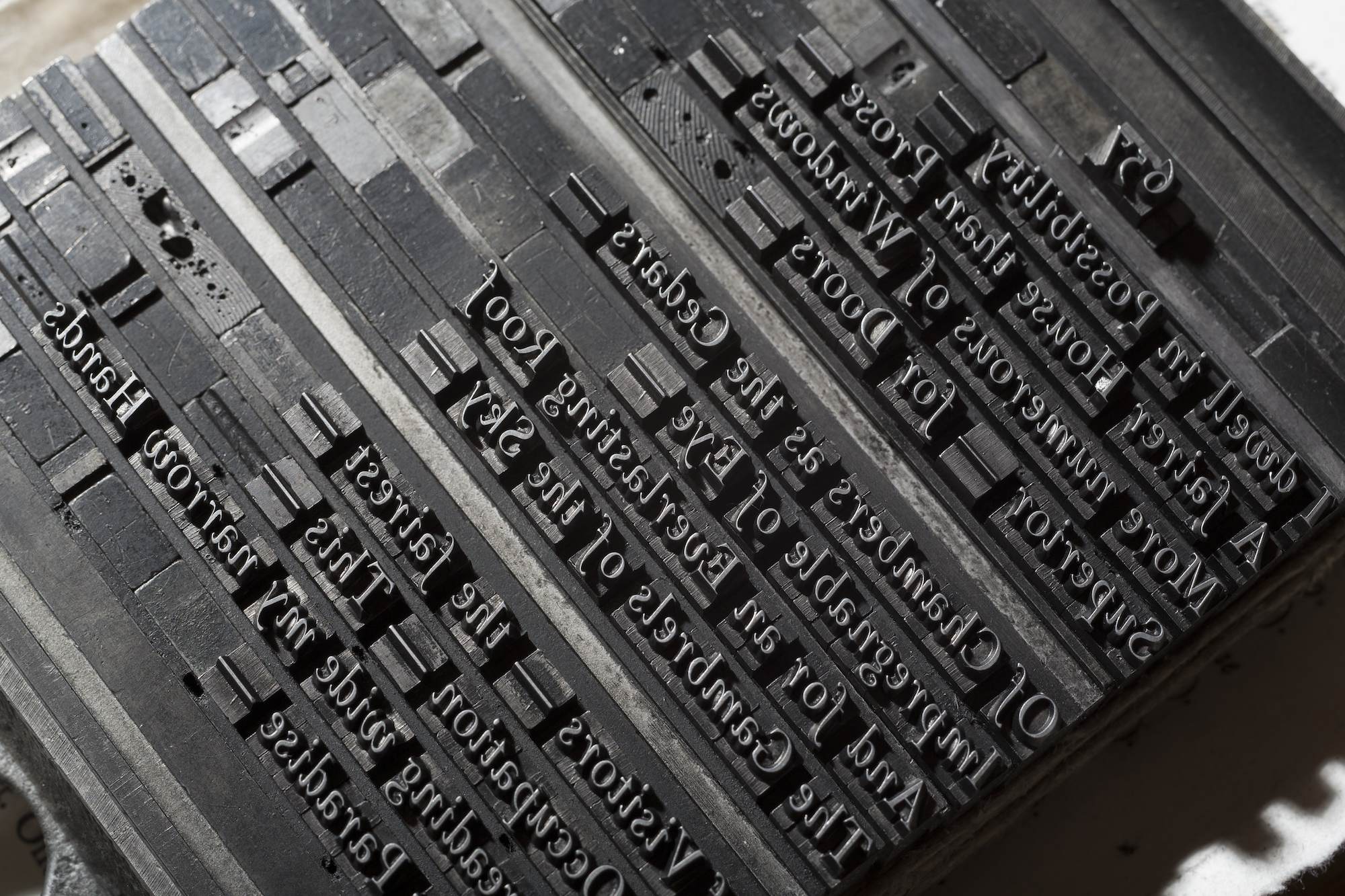 Above, hand typesetting of the poems in 12pt Tallone type.
This is one of 258 numbered copies printed letterpress on off-white Magnani paper, made of pure cotton in Pescia, Tuscany.
***
This is an ordinary copy.
Copies from 1 to 40 include a lithograph print expressly made for this book by Giulio Paolini, and signed and numbered by the artist from 1/40 to 40/40 (prices and images on request).
300 copies of this book were printed, of which:
- 258 copies printed on pure-cotton Magnani paper, made in Pescia (Lucca);
- 18 copies printed on laid paper made in Sicily;
- 13 copies printed on hand-made Umbria paper, made in Fabriano;
- 6 copies on Magnani paper, hand-made in the 1950s;
- 2 copies on pure-cotton light-blue paper, made exclusively for Tallone Press in Sicily;
- 3 special copies not for sale.
***
English edition.
Collection of 130 poems.
Volume in the 8vo format (cm17,5x27) of 180 pages entirely typeset by hand in 12-point Italic Tallone type, designed by Alberto Tallone, cut by Charles Malin in Paris and cast by Radiguer.
The photo below shows the positioning of the text blocks, which vary from page to page: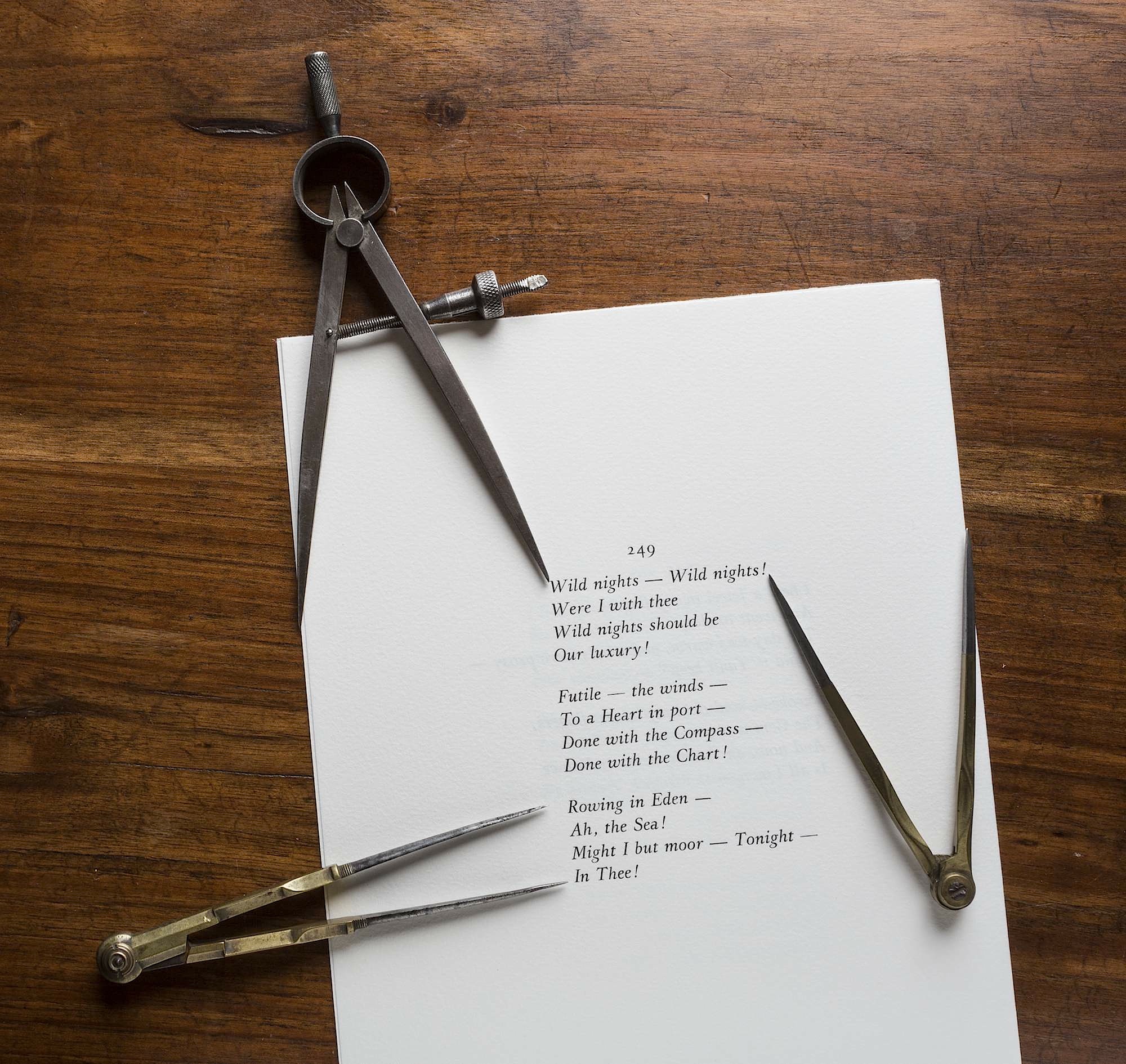 ***
The number of movable types handled for the typesetting of this book, makes it an exceptional endeavor in contemporary fine printing.
Printed on very fine paper and sewn by hand, this collector's edition is a sophisticated gift meant to last over time and designed to give the best reading experience possible.
It is handmade in the most ancient typographic studio in the world still in activity, where handmade bookmaking and continue aesthetic research combine to give each book a unique design, never repeated in standard book series.
Neither monotype nor linotype are used. These typesetting systems from a keyboard are often passed off as manual typography. The Tallone Press also does not print from plastic plates derived from digital compositions.
***
The introductory study by Barbara Lanati has been set by hand in 9 and 10-point Garamond, cut on steel punches by Henri Parmentier in 1914 and cast by Deberny.
This is an excerpt:
« "To forget", "to escape", "to miss": Emily Dickinson (1830-1886) adjusted her life to the semantic areas and synonyms related to these very verbs, or rather she chose to cope with them. Apparently they haunted her imagination and imagery, hence the choice of the poems collected in this selection.
Most of them, although not all of them, as she was highly unpredictable in both her public and personal life, not to mention in her writings, distant as they were from any contemporary school of poetry, either Romantic or Transcendental, she was acquainted with but decided to ignore. Jeune fille bien rangée, she was brought up in a well-off milieu, but like a thief (inspired by Browning's dramatic personae, she adored to wear a mask) she would sneak books and magazines from her father's library. She had knowledge of the Civil War, of the Gold Rush, of English poetical diction, of Physics and Medicine, but she was in love with words and the imagery she borrowed from Shakespeare, the Bible, and Seventeenth Century Metaphysical Poetry.
So she shaped a world nobody could break into, a world of words that were "precious" to her, and certainly a world of poems and letters (as no diary was found). A world where the apparently fragile girl and then woman was —daring choice at the time—coming to terms with the very concept of identity: her own identity. Silent and proud. Ironic, self-ironic and aggressive (like a loaded gun as one of her poems underlines) in opposition to the fake, ambiguous middle class that surrounded her and that was not able (never, I suspect, with the exception of Walt Whitman) to grasp, as she did, the modern notion of solitude and split identity: […] Explore thyself! / Therein thyself shalt find / The "Undiscovered Continent" — / no Settler had the Mind (832).
It took decades for her country, and the rest of the world, to discover her. Before modern poetry (and Freud) realized what she did not know she knew, but she knew».
 *** 
The volume is housed in a hand-made slipcase and box, custom made to an exact size, whose exteriors are covered with Ingres paper. The book title is letterpress-printed on the slipcase's spine.
Data sheet
Size (cm)

17,5x27

Typefaces

Entirely typeset by hand in Tallone type, designed by Alberto Tallone, cut by Charles Malin on steel punches and cast by Radiguer in Paris.

Paper

Magnani paper made of pure cotton in Tuscany

Number of pages

180

Total print run

258

Weight (kg)

1,6