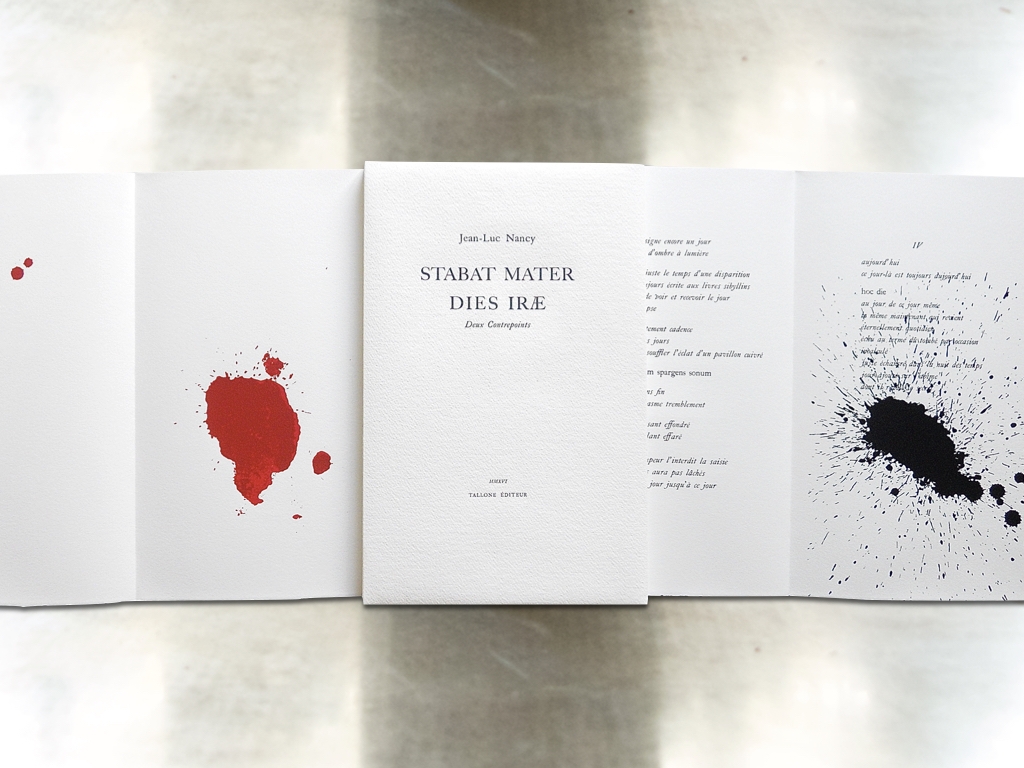  
STABAT MATER. DIES IRÆ. DEUX CONTREPOINTS
Limited edition of 60 copies typeset by hand in movable types. The hand-typesetting of Gregorian chant notation makes this edition an exceptional endeavor in contemporary fine printing.
Dedicated to Gregorian Chants "Stabat Mater" and "Dies Irae", this edition includes two inedited poems in French by Jean-Luc Nancy and six silk-screen prints signed by Claudio Parmiggiani, made expressly for this edition.
Complimentary gift wrapping and personalized message for the receiver available at checkout*
(*) no additional charge will be applied
Shipping costs calculated at checkout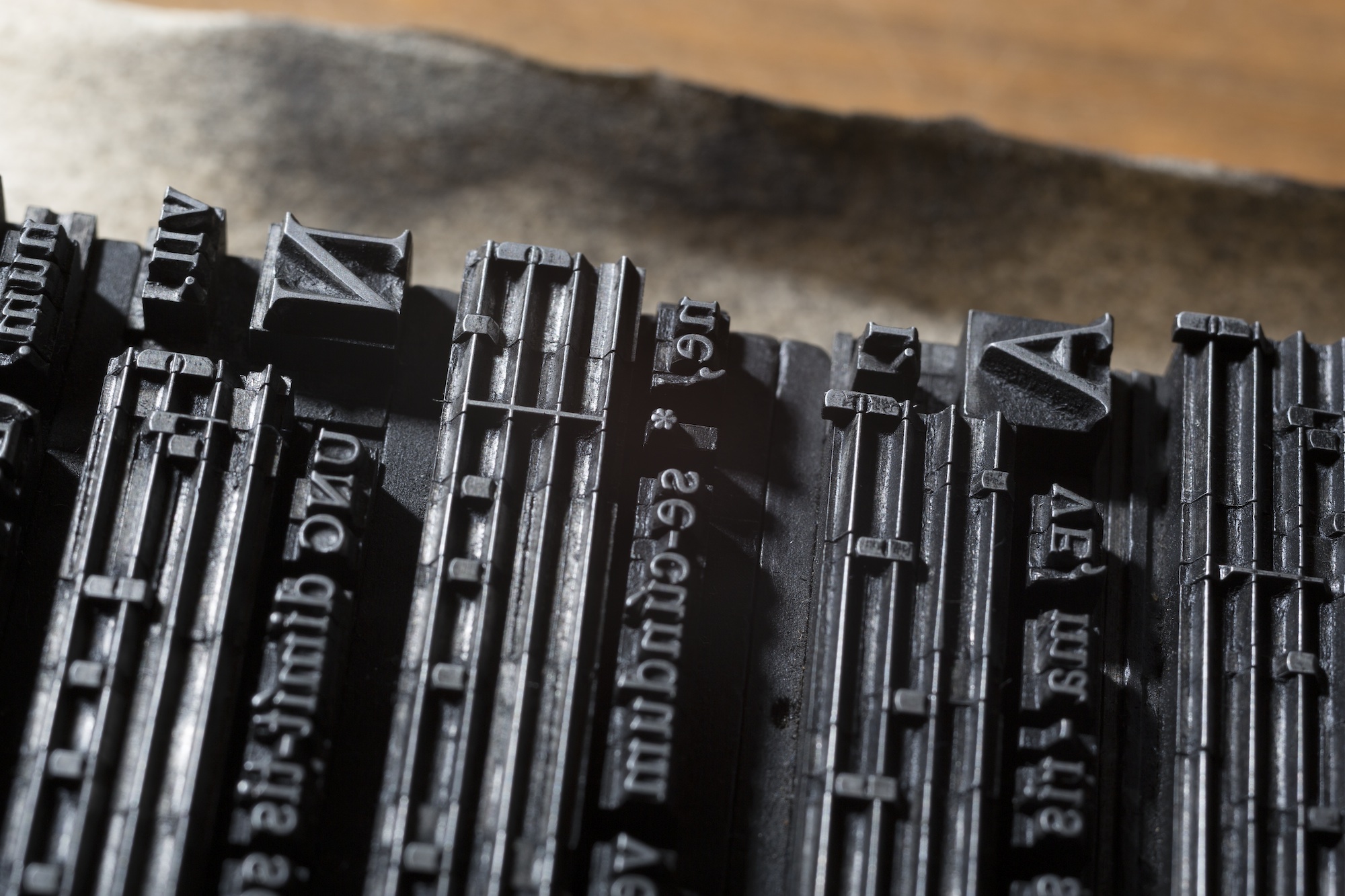 The complex joint-system of 230 tiny pieces which make up the 4-staff notation makes Gregorian Chant the most challenging undertaking for composers.
The image above shows the complex interlacement of tiny pieces which have been typeset by hand.
A limited edition of 60 copies letterpress-printed on pure cotton handmade Magnani paper. 
A volume in-folio (cm 25x40) of 64 pages typeset by hand. In particular, texts and chants have been typeset by hand in monumental 24 pt Caslon type, punch-cut by hand by William Caslon and cast in the original 18th-century mats; while music notation, has been typeset by hand in original Gregorian movable types, those cut by hand in the second half of the 19th century by Théophile Beaudoire, and cast by Deberny in Paris.
«Stabat Mater and Dies Irae represent two of the highest moments of human and religious experience. Their emotional power and striking beauty have inhabited our collective memory since immemorial time» Jean-Luc Nancy. 
The book is signed by both the author and the artist. 
The six silk-screen prints are each signed and punched by the artist. Two of them are printed in red and four in black.
« Les éclats de Claudio jettent le texte dans l'espace, hors du sens, vers le ciel et l'enfer, tandis que les anciennes planches du chant tiennent la basse continue, tout cela dans la stricte élégance des caractères. Ce n'est pas un livre, c'est une méditation partagée » Jean-Luc Nancy
***
The number of movable types handled for the typesetting of this book, makes it an exceptional endeavor in contemporary fine printing.
Printed on very fine paper and sewn by hand, this collector's edition is a sophisticated gift meant to last over time and designed to give the best reading experience possible.
It is handmade in the most ancient typographic studio in the world still in activity, where handmade bookmaking and continue aesthetic research combine to give each book a unique design, never repeated in standard book series.
Neither monotype nor linotype are used. These typesetting systems from a keyboard are often passed off as manual typography. The Tallone Press also does not print from plastic plates derived from digital compositions.
***
The volume is housed in a hand-made slipcase and box, custom made to an exact size, whose exteriors are covered with Ingres paper. The book title is letterpress-printed on the slipcase's spine.
Data sheet
Size (cm)

25x40